Order Your Exterior Shutters Today!
Select Wood, Style and Dimensions Below.
Priming and Painting Options are available at checkout.
Although we can manufacture your selected item to the dimensions you have specified, our website does not have image data for that configuration.

(close)


Exterior Wooden Shutters by Estate Millwork
Exterior shutters make a statement - and your home deserves the elegance of timeless and durable Estate Millwork premium-quality exterior shutters. Our solid wood shutters are available in a wide variety of styles and materials, and will increase the distinction and charm of any home they adorn. Estate Millwork exterior shutters are crafted from sustainable-harvest top-grade hardwoods, then carefully dried and stored. At our eco-friendly wooden shutter plant, Estate Millwork controls quality every step of the way -- from tree to finished product.
Construction
The process of creating our durable and distinctive exterior shutters begins with the hand selection of rough wood stock. We start with top grades of hardwood (FAS, 2FAS and CLEAR) and hand-select each board. Our use of hardwoods distinguishes us from other manufactures that use soft wood such as western red cedar, incense cedar, or pine. By hand-selecting each board, we are able to minimize waste, maximize quality and provide our customers with extremely durable, solid wooden shutters that outlast the vinyl or low-grade veneer shutters our competitors are selling. We even manufacture exterior shutters in exotic hardwoods such as mahogany and teak.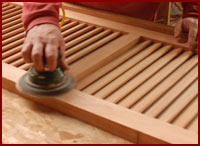 Our high quality custom wood shutters are milled by hand, to your specifications.
Customizing
Estate Millwork's exterior shutters are all custom-built to your specifications. We use 18th-century mortise-and-tenon joinery methods in our state-of-the-art mill. Our solid wood shutters can be constructed with operable louvers or fixed louvers in a variety of configurations, and can be crafted from various species of wood, including poplar, cherry, maple, cedar, mahogany, oak, and teak. A combination of modern automation and traditional craftsmanship allow us to produce the highest quality shutters on the market, while still offering competitive pricing.
Old-World Craftsmanship
Once the lumber has been selected for your custom exterior shutters, our expert woodworkers process it in-house. The rough lumber is transformed into finished dimensional lumber using computer software to maximize yield and quality. The dimensional lumber is then machined by precision CNC equipment (Editor's note: Much of our in-house equipment is designed by Estate Millwork employees.) which allows us to economically produce shutters with minimal waste. The parts are then handed over to our talented craftsmen for final assembly. Each set of shutters is machine-sanded, hand-finished, and optionally primed, painted, or stained to your specifications.
Primary Benefits of Ordering from Estate Millwork
Exterior shutters milled from FAS premium hardwoods
Solid wood milling process ensures sturdy products
Energy efficient shutters that dampen sound
Many priming and finishing options
A wealth of customization options available
Fully customizable shutter louvers and fixtures
Top-quality customer service from our experts
Advantages
Our solid wooden exterior shutters are whole-cut from solid pieces of durable, top-grade lumber. Many of our competitors construct their shutters from multiple pieces of wood. This type of construction results in inferior durability and energy efficiency. By contrast, our whole-milled shutters offer incredible climate control for your home.
In addition to superior materials, our endless customization options ensure that you receive a superior-quality product that fits your home or condo perfectly.
Energy-efficient exterior shutters - Whole-cut solid wood is used in the milling. This ensures that there are no cracks, low-quality joins, thin filler wood, or other inferior milling techniques that can cause shutters to leak warm air in the winter or cool air in the summer. In addition, you have the option to customize your shutters to fit your windows seamlessly for optimal energy efficiency.
Superior durability - Top quality, FAS premium-grade hard woods are used . Choose from poplar, teak, mahogany, cherry, cedar, maple, and oak. Different wood types are suited for different climates and environments, so if you require help in choosing the material best suited for your location call our shutter experts at 1.866.322.0040 for assistance.
A full complement of customizations- Receive the exact shutters that you want: just use our online custom design tools, or speak with one of our customer service representatives. Select from custom mouldings, carvings, hardware, and more. We can also create exterior shutters from your AutoCAD or hand-drawn sketches. Our customizations assure that you receive elegant shutters that suit your tastes and lifestyle perfectly.