Order Your Raised Panel Doors Today!
Select Wood, Style and Dimensions Below.
Select your Thickness:
Priming and Painting Options are available at checkout.
Although we can manufacture your selected item to the dimensions you have specified, our website does not have image data for that configuration.

(close)


Custom Built Solid Oak Doors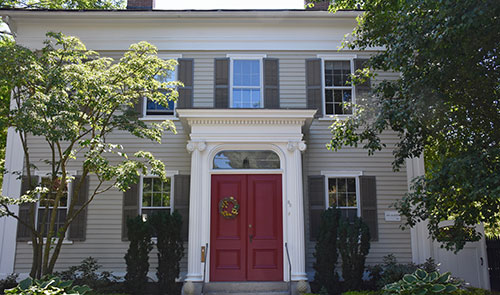 If you're in the market for a time-tested classic, consider an Estate Millwork all-wood custom oak door. Our careful, skilled craftsmanship and cutting-edge green plant practices ensure that each custom door we sell provides you with years of satisfaction.
Prime door material:
Oak wood is everlasting: Oak is a highly dense hardwood that is also strong, easy to work with, and pest-resistant. Our custom oak doors look classy stained, painted, or left natural; and quality craftsmanship ensures that you'll enjoy your louvered doors for decades.
Options: Oak wood comes in two varieties: red and white. While white oak is a bit more water-resistant than its cousin, red oak adds panache because of its creamy, salmon-pink hue. Oak is also easy to work with, offering endless options for custom doors.
Explore our oak doors and our green plant
Man's carbon footprint is growing. At Estate Millwork, we aim to reduce the impact our wood door manufacturing processes have on the Earth. Our supplies are green because we only partner with sustainable-harvest wood providers. Our plant is green, too: we practice recycling and energy-saving procedures each and every day.
No matter which style of door suits your tastes, rest assured that your custom door will be made of 100 percent real oak wood. Our door experts have seen firsthand just how poorly faux-wood furnishings hold up, and we guarantee that only solid oak components go into every custom door.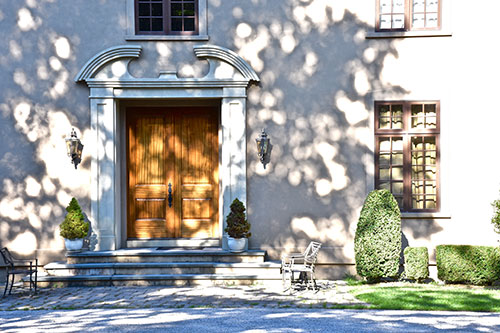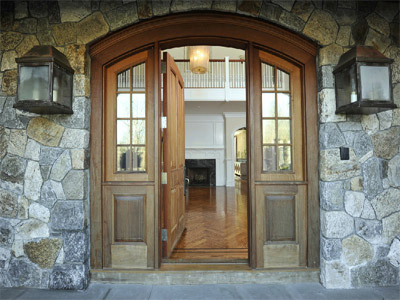 We use top-grade red or white oak in all of our custom wood doors.
Red Oak or White Oak - Indoors or Outdoors
Exterior Oak Doors:

Oak's natural water resistance and strength mean it is an excellent material from which to fashion a custom exterior entryway. We offer so many kinds of oak exterior doors that you might just have to take some extra time to decide on one.

Interior oak wood doors:

Strong, solid oak wood doors stand up to puppies, kids, cats, foot traffic, and frequent open-and-shut motions. By insisting upon expert craftsmanship and genuine white or red oak components, we create custom wood doors that last for years and years.
Custom oak wood doors: endless options