PMX Quality Manufacturing
Exceptional Web Commerce Experience with PMX
Automatic Lead Generation and Sales
Instant Customization and Pricing
Elegant Visual Presentation of Products and Details
Quality Focused Approval Process
Error Minimization through Automation
To achieve our high product quality and exceptional online buying experience, Estate Millwork uses Parametric Manufacturing Technology (PMX) to drive our website, our automated factory and our supply/logistics chains. This manufacturing technology allows our customers to use their web browser to connect directly, immediately and automatically with our factory to design, visualize, price and order highly customized products with just a few clicks and keystrokes. We are actively exploring opportunities to leverage our technology and manufacturing capabilities to help other businesses who design, sell or manufacture products in the millwork, construction, metal, plastic and electronics spaces. This page should be useful for our customers to understand the effort and commitment we put into building our products using advanced technology and old fashioned quality USA workmanship. But it is also intended to spark interest with other manufacturers and product developers who would like to benefit from all that PMX and PMX enabled factories can offer. Contact sales@estatemillwork.com with inquiries.
Explore how PMX can drive sales, quality and manufacturing for my business
Premium Quality at Substantial Cost Savings for Customers
Highly Automated Drawings, Specifications and Visualizations
Customers connect directly to shop floor with reduced chance for human error
Robots, Machines and Humans on shop floor work from same drawings and specs
In order to give the highest quality to our customers, our sales process begins with interactive, customer driven web design pages that are extremely intuitive to use with no learning curve. These pages allow our customers to instantly explore designs, options, pricing and to visualize the details of the final product. Once a customer is satisfied with the design, they can place their order in a traditional cart, approve the detailed drawings and specifications online and the order goes immediately to our robotic factory and CNC machines for production. This approach provides substantial cost savings to us as manufacturers, as well as flexibility and ease of specifying and purchasing for customers. In the not too distant past, and still at many of our competitors' operations, there are many humans still doing the work that we do automatically. But because we use PMX, we no longer need to have staff for lead generation, sales, estimating, CAD drafting, CNC programming or shop floor planning – this is all automatic without need for expensive humans who we use for better purposes like producing high quality millwork and taking care of customers. PMX has built in marketing, SEO and PPC capabilities to bring high quality traffic to our website, and to take excellent care of the customers who use the site to customize and order our many products.
Contract with Estate Millwork's robotic factory to manufacture parts/products
Powerful Simplicity to Conquer Complexity
Simple Product Descriptions that deliver everything needed for Complex Products
Easier, Faster, Cheaper than traditional CAD approaches
Zero learning curve for customers
Parametric, Hierarchical modules and assemblies
Models automatically connect to supply chain, equipment and shop floor management
We manufacture hundreds of products in more than 25 materials with thousands of customization options – an infinite amount of flexibility for customers, and a level of complexity that would be unmanageable without powerful software like PMX. PMX instantly produces professional dimensioned drawings, 3D renderings and animated models as well as accurate-to-the-minute pricing based upon fluctuating market conditions. We work very hard to make the complex process of specifying highly detailed millwork as simple as possible.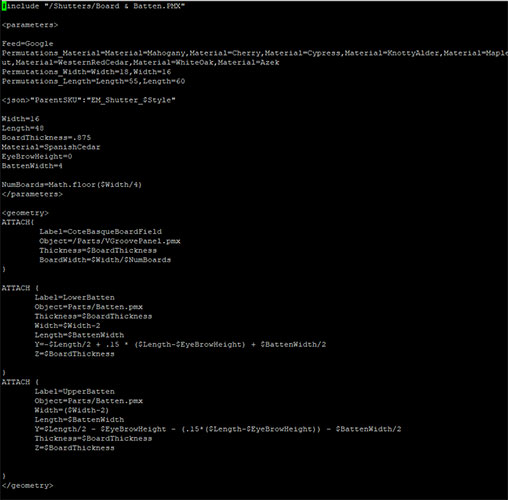 Quality Materials with Automatic Supply Chain & Logistics
Automatic Purchasing based upon real time order flow
Competitive real time bidding from multiple suppliers
Built in logistics for parcel and LTL shipments
Estate Millwork uses PMX' Millworxx module to automatically purchase the finest quality hardwoods from multiple sources using a competitive realtime electronic bidding system that allows us to place our material demands online instantly as new orders arrive at our mill. This system allows us to obtain the best materials at the best price with no human effort reducing costs and increasing lumber yields and environmental impact.
Whether we are buying standing timber, logs, green lumber for our kilns or FAS hardwood lumber from our suppliers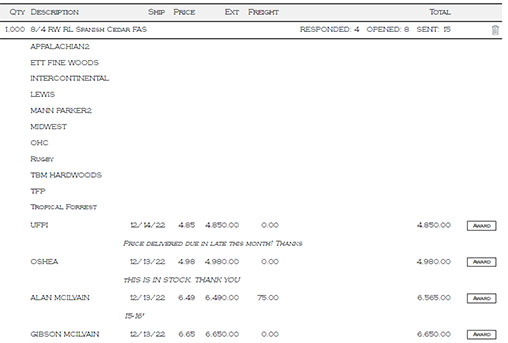 Right-Shore your manufacturing to Estate Millwork's Pennsylvania Factory
If you currently have a product line of wood products that you would like to expandi with parametric manufacturing and marketing, or you are designing a new product in metal, wood, plastic or a digital PCB circuit, contact us.
How to Implement PMX for your Products or Business
If you are fascinated by the possibility of deploying PMX technology in your business or to outsource manufacturing to our facility, please send an email to pmx@estatemillwork.com to begin a conversation about how you can embed PMX into your website, product design or manufacturing operations. We currently support manufacturing in wood, metal, 3D printing, plastic injection moulding and PCB electronic components.
PMX Benefits
Rapid Time To Market
Simple to Implement
Immediate low cost customer driven configuration and customizations
Automatic web design pages with renders, interaction, 3D models of your products
Automatic Digital Marketing – product design pages, SEO, PPC campaigns
Shop Floor Management – follow order progress through every step from initiation to shipment
Repeatable High Quality
Eliminates the costs of Estimating, Drafting, CAD, CAM, CNC Programming, Robotic Programming
Flexible cost and price confurations
PMX Modules
Rapid Parametric Design: Build core product models in PMX and customers and factory can dynamically interact and customer products with no additional effort.
Simple Implementation: Unlock the power of PMX with a simple plugin for your website
Instant Time To Market: As soon as you have completed a PMX design, the platform immediately delivered web traffic, leads, customers and orders and allows you and your customers total flexibility in customizing products