Order Your Flat Panel Shutters Today!
Select Wood, Style and Dimensions Below.
Priming and Painting Options are available at checkout.
Although we can manufacture your selected item to the dimensions you have specified, our website does not have image data for that configuration.

(close)


Flat Panel Outside Shutters
Estate Millwork's exterior shutters are built to withstand the extremes of your outdoor environment. Our Spanish Cedar is naturally resistant to moisture, fungus and insects, as are our Western Red and Mahogany shutters. With proper maintenance, which can begin with a factory finish [link to below], our hand crafted construction techniques will give you years, decades, of beautiful use.
We use only the top grades of lumber, and hand select each board for quality and yield. Unlike many of our competitors, we are a complete vertical operation -- we control our own timberland, operate a green sawmill, dry kilns and have our own finish mill, CNC department, and hand assembly craftsmen. This tight vertical integration gives us the upper hand on quality of material, price, and yield. What it means to you is the best outside shutter at an affordable price.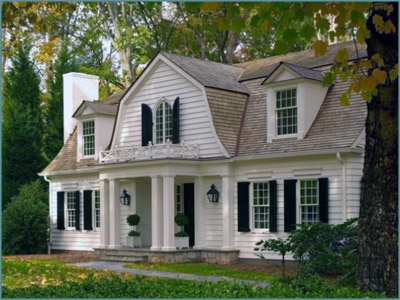 Shutters Built to withstand the weather outside
We still hand joint every board in every shutter. This costly, time consuming process allows us to build solid wooden shutters, without lamination, staves or finger joints, while still preventing stress related quality problems in the field. Hand jointing relieves the stress placed in wood as it is dried, even if it is carefully dried as we do in our dry kilns.
After hand jointing, our lumber is processed in our highly automated finish mill, that is literally programmed by you, our customer, by virtue of placing an order on our website. Our finish mill can quickly and automatically set up to saw rough lumber into the dimensions needed for your custom order. This means that we can provide you with a complete custom outdside shutter, at the lowest possible cost, because many customizations are automatic for us.
From our finish mill, each part of your shutter is carefully machined by computer controlled CNC equipment, and the parts are then hand assembled by expert craftsmen who understand all of the nuances of our world class true mortise and tenon joinery, hardwood doweling, deep seated floating panels and recessed louver mortises. Our shutters are built to withstand the variations of temperature and humidity by using techniques from classical English joinery that allow the parts of a shutter that need to move, to move, while holding the frame rigid.
Fully Customizable
We can exactly match your existing shutters, and we allow you to customize an almost unlimited amount of details for your shutters. Frame thickness, dimensions, material, grade, finish, louver pitch, profiles, sticking and finish details can all be easily specified and handled by our automated equipment. But each shutter is still hand assembled and hand finished. That's where the quality comes in.
Our website allows you to customize many of the most common details of shutters -- the style you would like, the material, dimensions etc. But if your needs go beyond what you can specify on our website, please call us or send drawings and one of our experienced, friendly salespeople will work with you on capturing the details of your job.
Factory Finishing and Painting Available
Once your custom shutter is finished with the manufacturing phase, you can optionally have us prepare your shutter for its outdoors location on the exterior of your house. We offer factory priming, using a premium grade exterior stain blocking primer (great for Cedars!), as well as factory painting in any color you specify.
Our priming service begins where our machine and hand sanding leave off. Each shutter is prepared for priming, and sprayed in a controlled environment with a self leveling, stain blocking primer that will seal the shutter prior to painting with the top coat. If you elect to factory prime the shutter and finish it yourself in the field, all that will be required is to lightly scuff the primer to smoothe out the grain and make it ready to bond with the first top coat of paint.
If you choose, Estate Millwork can also finish paint your shutters, in which case we handle the scuffing of the primer, the application of a premium grade outside latex paint matched to your color choice, and the application of a second, finish coat as well.
Whether you order unfinished or finished shutters, the final step is that each wooden shutter is carefully wrapped in foam, backed in a custom box or skid and shipped via best way to your job site or home. You can install your custom outdoors shutters on existing hardware, or browse our collection of outdoor shutter hardware.