Exterior Wood Shutters and Doors Crafted with Minimal Environmental Impact
Published: July 29, 2022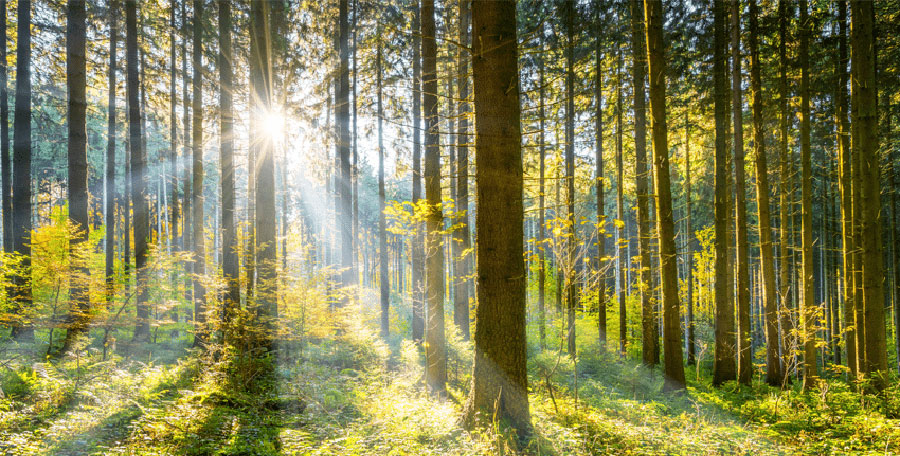 The Estate Millwork factory is situated in the Allegheny Mountains of western Pennsylvania, a timber rich area which allows us ready access to sustainable forestland. Our employees and management grew up on the land and in the forests of our area, many of us have been farmers, sawyers and lumberjacks before coming "inside" to Estate Millwork to specilize in handcrafted, custom millwork like our wooden shutters.
Environmentally Friendly Green Construction
Sustainable Forestry.
We manage a portion of the timberland that produces domestic hardwoods for our products, and buy all material that we do not produce ourselves at our environmentally friendly mill from reputable vendors who practice and support sustainability. Our own timberlands are select cut only, 18" and bigger mature trees, and in some cases, the timber is brought out with teams of draft horses, much as it was a hundred years ago. All of our domestic hardwoods are harvested for green construction from our local region, and our products can be specified to be constructed from FSC certified materials, recycled MDF or even remanufactured lumber. Our imports are also brought in from reputable vendors who, if specified, can provide chain of custody documentation for our material.
Customers who want to purchase wood shutters can also specify the use of recycled materials including formaldehyde free recycled MDF, open cellular PVC, re-purposed lumber including old barn wood, re-manufactured hardwood flooring, or in some cases, provide their own previously used materials for us to process
Absolute Minimum Waste.
Because much of our production mill is computer and robotically controlled, we have achieved exceptional yields from our raw materials. Nearly 97% of the lumber that we purchase ends up in a finished product. This is next to unheard of in an industry where waste factors are often as high as 40%. We buy our lumber in random widths and lengths so that we, not our vendors, can control the waste and yield and improve our mill's impact on the environment. We have designed our product mix to internally complement itself and to maximize yield. A board may start out in a louvered door, with left over pieces ending up in an exterior shutter for a different customer and a cabinet door for a third customer. We yield optimize every ripping and every cross cut because doing so helps us keep our costs down, as well as our lumber consumption, and environmental footprint.
Left over lumber that can not be used on current orders is stockpiled, and the small amount of waste lumber that can never be used (1/16" thick rippings, pieces less than 8" etc) is saved to heat our plant in the winter, thereby reducing consumption of coal and electricity.
Efficient Energy Consumption.
Although state of the art in many regards, we have consciously attempted to lower energy inputs to our plant to help keep our mill green. We schedule work as efficiently as possible so that when a machine is started (the most energy demanding phase of operation) it is run continuously until all the work for the day has been performed, thus keeping wasteful starts to minimal levels. In the busy summer months, we schedule heavy machining operations for the 3rd shift, when energy demand is lower. In the winter, our environmentally friendly plant is kept at a balmy 58 degrees. The tremendous amount of energy we save by not heating the plant to 68 or 72 degrees is illustrative of our employees commitment to sustainable green construction and manufacturing. We heat our plant with scrap wood, deadfall, saw dust, agricultural waste and clean burning anthracite coal. On weekends and holidays, we drop the temperate to 48 degrees. Our craftsmen dress warmly in the winter, work hard on our orders to keep warm, and do without air conditioning in the summer.
Shop Sustainable Exterior Wood Shutters
Wind Power.
In addition to the rich timber resources in our area, we are situated in an area of Pennsylvania that is a leading edge adopter of wind power. There are over 20 windmills on timberlands immediately adjacent to our plant, and many more on forestland that we harvest. This renewable resource is another way that we reduce our environmental impact.
Supporting Agriculture.
Many of our employees have a deep commitment to the local forests and farmland through long heritages of working the lands and forests in our area, in some cases for seven generations. In addition to buying local and hiring and training local "farm boys", we donate all of our saw dust and millings to dairy farmers on our mountain. We have a flexible work schedule that accommodates employees who have other duties on the home farm. Additionally, the unavoidable sawdust from cutting and sanding is carefully collected throughout the plant and is picked up daily by farmers who use it for bedding for the cattle, and then ultimately, returning it to the land after it has been mixed with manure to make an organic mulch/fertilizer.
Build your new Custom Louvered Doors and get a Free Instant Quote Today
Our state of the art designers allow you to design and build completely customized Louvered Doors to fit your exact needs.
Questions or concerns contact us here or via 412.641.0177 .
Build an Instant Quote
Get Started Designing Your New Wooden Shutters Today!

Board & Batten Shutters

Arched Shutters
Check Out Our Line of Louvered Doors
Recently Published