It's Not as Granular as you Think: Choosing the Wood for Your Cabinet Doors
Published: April 02, 2020
Here at Estate Millwork, we offer a wide variety of cabinet doors for you to choose from. The choice of style is entirely up to you, of course, and have fun making your selections! However, a somewhat more involved choice might be which wood to choose. Personal taste is the ultimate guide to your choice, as always, but there are a few things you might consider.
Cabinet doors are mostly an indoor feature, but circumstances vary. It might be that you plan on installing a cabinet door outside, or someplace that sees strong temperature variation and moisture. In that case, Spanish Cedar is an excellent choice. Its a very solid choice for outdoor applications, being hardy and bug-resistant.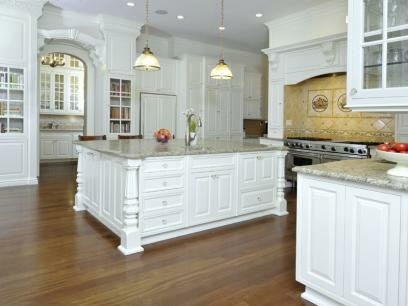 In most cases your cabinet doors will be on the inside, though. So then the big question is this: Do you need them painted? If these cabinet doors are a part of an existing set, or if you need them to match or compliment the color of the room where they will be located, then the answer is probably yes. That means you need a nice, smooth wood that paints well. And that means you want Poplar. How good is Poplar for painting? Well, centuries ago, a fellow by the name of Leonardo Da Vinci painted a little something called the Mona Lisa on Poplar. You won't get a better recommendation than that!
If matching colors is not an issue, and what you would rather do is have the natural beauty of the wood itself do the talking, then you have many more options. What you want is a wood with an attractive grain, and one that you can stain and varnish for just the right effect. Woods like Walnut, Mahogany, or Oak are just perfect for this. They have beautiful grain, and will give the warm tones of woodwork wherever they are installed. The stain you use will tint the wood to the exact shade you need, but do not forget to varnish! Cabinet doors tend to see a lot of use, so you want to protect them, and varnish is a good way to do that.
With woodwork, the choice of what wood to use is of course very important. You have a lot of choices! But by keeping in mind just what you want to do with your cabinet doors, you should be able to narrow your choices down pretty quickly to the perfect choice for you.
Build your new Custom Louvered Cabinet Doors and get a Free Instant Quote Today
Our state of the art designers allow you to design and build completely customized Louvered Cabinet Doors to fit your exact needs.
Questions or concerns contact us here or via 412.641.0177 .
Build an Instant Quote
Check Out Our Line of Louvered Cabinet Doors
Recently Published