A Double Entry Door or a Single Entry Door? That is the Question
Published: August 04, 2021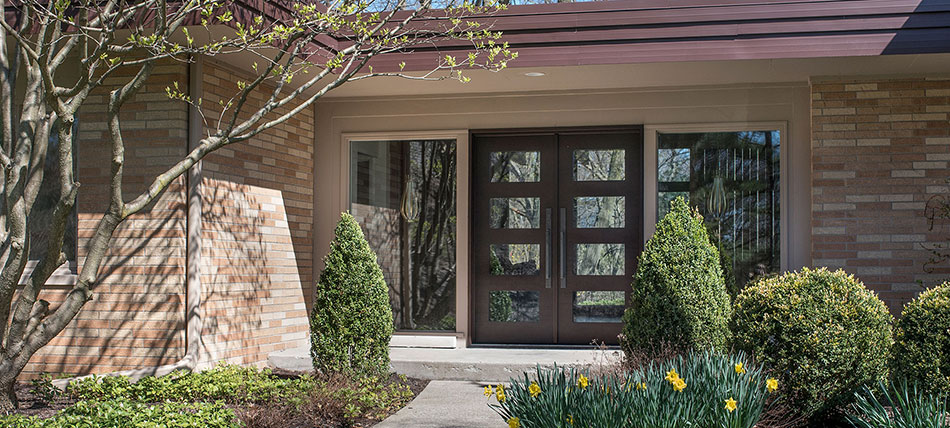 When it comes to normal there isn't anything more normal than a single entry door while they can be simple and quite basic they are a useful and necessary part of your home. While single front doors can be simple and cost effective they can also be extravagant and pricey, it all depends on your tastes and the look you are going for. Homeowners that have the space and are looking for that extra pop in their entry way may opt for the double front door, double front doors can make your home feel more inviting, provide a larger opening for moving larger items in and out of your home and they will also likely boost the value of your home when it comes time to sell.
Double Entry Door vs Single Entry Doors
The single entry door is very common and can be considered in many circumstances as construction grade that was usually installed when the home was built. While these doors are the most cost effective option they can become lost and underwhelming for homes with a wider font entranceway.
Double entry doors on the other hand offer exceptional curb appeal to one's home. These double entry doors are very likely the first thing those passing by will see and the first thing prospective buyers will be drawn to. Double front doors create a focal point when looking at the exterior of your home and they accentuates all of the other architectural features of your home.
Benefits of Double Entry Doors
Double entry doors permit homeowners to implement distinct architectural styles that would not be possible with single entry doors.
A glass panel style permits that much more light to enter your living space.
Double entry doors are the perfect addition to homes with wide interior access walkways.
They create a larger access point for entertaining or moving large furnishings.
You can recreate a particular architectural style such as Dutch Colonial.
They will complement homes with spacious interior access halls.
Aesthetics
Both single and double front doors offer many different aesthetic options, both door setups. Whether you are talking about overall door design when it comes to the paneling, number of lites, or style, both types of doors can also be setup with side lites to allow more light into your entryway and home.
Personalized Style
Estate Millwork manufactures our doors custom to your needs making the possibilities endless giving you the opportunity to have a truly unique door. To learn more check out our state of the art door designers.
Build your new Custom Raised Panel Doors and get a Free Instant Quote Today
Our state of the art designers allow you to design and build completely customized Raised Panel Doors to fit your exact needs.
Questions or concerns contact us here or via 412.489.9148 .
Build an Instant Quote
Get Started Designing Your New Solid Wood Doors Today!

Mission Doors

Barn Doors

French Doors
Check Out Our Line of Raised Panel Doors

Recently Published
The Appeal And Benefits Of Wooden Front Doors
Published: October 15, 2021
Choosing Your Interior Door Style
Published: September 29, 2021
Why Are Outdoor Wooden Shutters So Popular
Published: September 15, 2021
Choosing The Best Wood For Your Exterior Front Door
Published: September 03, 2021
Custom Wood Doors -- Notes On Quality
Published: August 26, 2021
Different Types Of Closet Doors
Published: August 20, 2021
Choosing The Best Exterior Shutter Color
Published: August 13, 2021
A Double Entry Door Or A Single Entry Door? That Is The Question
Published: August 04, 2021
Why Exterior Shutters Are Important To Your Home
Published: July 27, 2021
Interior Doors You'Ll Love In Your Home
Published: July 08, 2021