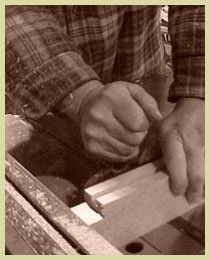 Exterior Shutter and Custom Door Construction
Estate Millwork hand-crafted Exterior Shutters are created by a team of skilled wood workers who ply their craft in a state of the art manufacturing facility in the timber-rich foothills of the Allegheny mountains of Western Pennsylvania to meet the demanding specifications of our customers for custom hardwood doors.
Although the mill of our family owned business was originally built during the 1930s, we have some of the most sophisticated wood working machinery and software available today, much of which was designed and built by Estate Millwork for its exclusive use.
Our committment to hold on to the lost arts of 18th century wood craft by using technology and innovation without comprimising on the integrety of our proudcts allows our Louvered Doors to be considered the best by discrminating architects, builders and homeowners throughout the country.
Clear, FAS Premium Grade Hardwoods
Standard Louver Door Thicknesses - 1 3/8 Interior, 1 3/4 Exterior
Double Tenoned Rails, pegged with custom hardwood dowling
Deep Pocket Blind Mortises
Hand crafted by expert joiners
Process Begins with Hand Selection of stock for louver door
All milling from rough stock done by Estate Millwork. This insures that we have total control of quality, moisture content, fresh surfaces for glue and climate control.
Floating Panel Frames / Deep seated louvers
Custom Sizes of all louver door at Stock Pricing
Historic Profiles an proportions
Factory Priming, Painting & Finising Available
Shipped worldwide.
100% American Made