Stair Treads
100% Made in USA with real solid and sustainably harvested Red Oak
Unfinished and sanded, ready for stain or paint
Optional Bullnose edging
Multiple grain reversed Red Oak boards for maximum strength
Order with Left, Right or Both Nosings
Companion Risers available
Variety of wood species and sizes available

Premium and Durable Poplar Wooden Stair Treads
Fully Custom Stair Treads
Estate Millwork makes solid custom stair treads that can be configured for new construction in any thickness (typically 1"), or as replacement stair treads (typically 5/8"). Our treads can be ordered with square or bullnose profiling, or any custom profile as well. Treads can be ordered with or with out nosing, and the nosing options include left hand, right hand or both. Custom and odd sizes are no problem, and you can use our online quotation tool to price and order, or for move custom options, please send us your drawings or call to discuss.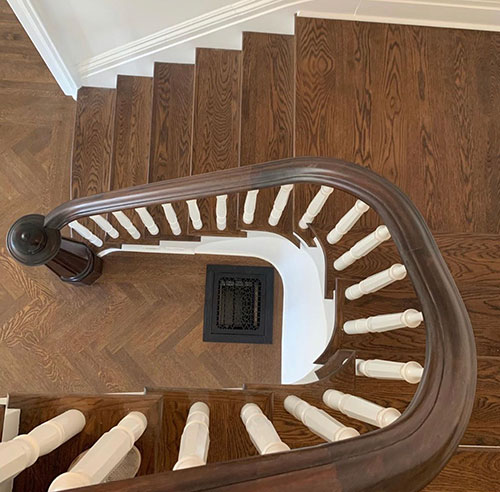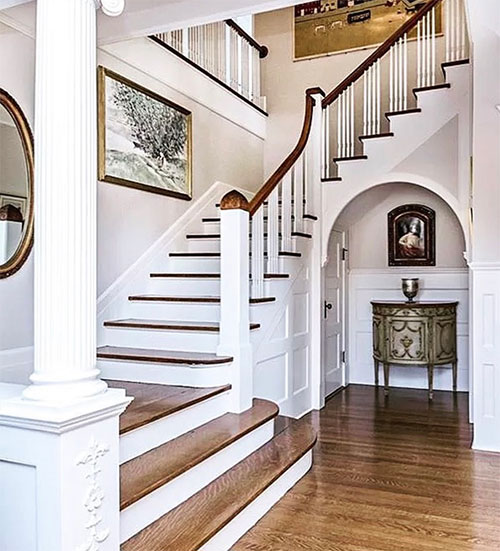 Premium Hardwood Materials
Each stair tread we manufacture begins with FAS grade hardwood lumber, much of which we kiln dry in our proprietary kilns. The rough lumber is machined to the desired dimensions in our finish mill and then is carefully fashioned into premium quality treads which can optionally have nosings or profiling done. We grain match and reverse the grain of each board component in the stair, but we can also manufacture monolithic stair treads in thicknesses up to 4" and beyond. Our stock hardwood selection includes Red Oak, White Oak, Poplar, Mahgoany, Walnut -- over 15 species, but we can manufacture in any species you desire.
Quality. Made in USA.
Our plant uses only locally sourced domestic hardwoods and premium plantation imports. We do 100% of the processing in the USA, proudly. Much of our wood working equipment is American made and all of our machining, assembling and finishing is done in our state of the art facility in Western Pennsylvania. The skilled craftsmen who create our products, some in the third generation, take pride in each unit we assemble and enjoy the proud heritage that Appalachian hardwoods and Appalachian craftsmen can imbue to our timeless custom stair treads, risers and parts.
Poplar the Poor Man's Cherry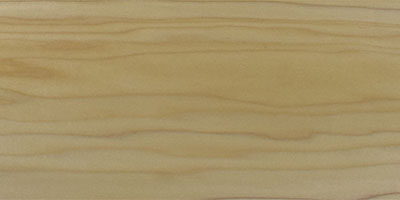 Poplar hardwood lacking bold coloration or an exciting grain pattern has a pale olive-yellow brown heartwood and sapwood is lighter off-white or gray with greenish hues and doesn't often get the respect we feel it deserves. The Poplar tree is widespread across all of North America and Europe, and it grows very rapidly and to large sizes, making it very easy to sustain.

Because the wood is often painted or used in secondary applications where it isn't visible, it is very easy to find wide, clear sections of Poplar for a variety of uses.

Poplar lumber is pretty soft and very easy to work. But botanically speaking it is a hardwood meaning it is a deciduous tree. But it is highly stable, easily available in width and length, and takes paint and stain famously well. However using Poplar as a stain grade species is often overlooked. Some will call Poplar wood "poor man's Cherry" as it oxidizes over time to a much darker shade of brown.

Product Information
Technical Details
| | |
| --- | --- |
| Item Weight | 1 pounds |
| Product Dimensions | 0 x 0 x 0 inches |
| Material | Poplar |
| Number of Pieces | 1 |
Additional Information
| | |
| --- | --- |
| Name | RedOak Wood Square Stair Tread Replacement by Estate Millwork - No Return - 1" X 11.25" X 11.25" - Great for Stair Remodel Projects |
| Shipping Weight | 2.5 pounds |
Application
Retrofit / Remodel
Order Any Size
Companion Risers Separate
Quick Ship Item
Availble Sizes
24" - 96" Long, Andy Depth/Thickness
Odd Sizess too.
Perfect for remodels or new
Material
Solid Poplar
Premiums FAS Clear Grade
Years of Tread Wear.
Fabrication
Edge Glued Grain Reversed Boards
Traditional Style
Strength & Stability
Return Nosing
Left, Right or Double
Fits any application
Elegant Detail
Edge Detailing
Square, Bullnose, Ogee, Custom
Match Existing
Finished Look
Finish
Machine Sand 120, Hand Sanded 150
Drum,Edge & Palm sanded
Top quality hand finish
Packing
Foam Wrapped in Custom Built Carton
1/8" Foam, 3/16 Trim Sheet 100lb
Protection against damage in transit.