Glossary of Door Terms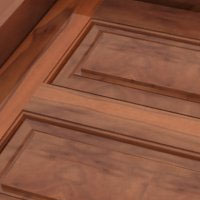 Definitions to guide you when purchasing louvered doors.
Astragal - An applied moulding, also known as a T-Astragal that is attached to one of a pair of double hung doors to cover the gap between the doors.
Brick Mould - A sub class of casing that is used on the exterior face of exterior doors that are mounted in brick.
Bolection Moulding - Elegant detail from days and centuries gone by that adds depth to doors and millwork. It is a surface mounted, moulding that wraps either the frame or fields of frame. Estate Millwork specializes in high grade reproduction work of the type that used bolection mouldings
Casing - Decorative moulding that is applied, often with a small reveal, perpendicular to the jamb to dress up the hole in the wall where the jamb is placed.
Feather Tenon - Classic millwork technique used on wider rails to have two tenons instead of one (less prone to split), combined with a shorter tenon connecting the two deeper tenons (more surface area for joint and more resistance to rack)
Hinge Prep - Matching the door edge and jamb to receive hinges
Jamb - The 3 boards that enclose the wall opening for the door (Left Leg, Right Leg and Header). The hinges are set fast to the jambs.
Jamb Leg - Vertical element of Jamb that covers the inside faces of the rough openings and is generally as deep as the wall is thick. Typical thickness run from 3/4 to 5/4.
Lock Prep - Consists of drilling a center hole for the door knobs, a deep mortise to hold the lock body and often an additional surface mortise for the lock plate. Corresponding maching for bolt and strike in the jamb.
Side Lite - Small, fixed windows or panels and windows that sit on both sides of a door in more elegant homes.
Sill/Threshold - On exterior doors, the sill creates the transition below the door from the interior of the house to the exterior. Generally outward sloping (for better drainage), the sill runs from outer jamb leg to outer jamb leg
Stop - A moulding that is applied to the inner face of the jamb that allows the door to shut firmly against its face.
Sweep - Rubber or Bristled gasket that is mounted to the bottom edge of an exterior door to mate with the sill for a weather tight seal.
Transom - A window above a door or window that is usually as wide as the door and any sidelites.
Transom Jamb - The jamb element above the door and below the transom. For 1 piece transoms, the transom jamb is also one piece
Weatherstripping - Rubber or nylon gasket that is mounted between the stop and the door on exterior doors to allow for a tight seal on 3 sides of the door.