Estate Millwork for other Millwork Companies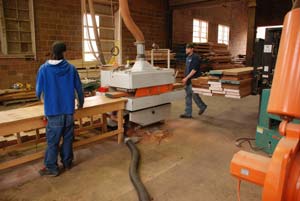 Estate Millwork is an excellent outsourcing partner for the projects that you do not have the capacity or inclination to produce internally. We are highly efficient on our core products, and have excellent access to a wide variety of premium domestic and imported hardwoods.
Our estimating department is one of the fastest in the country and can turn around quotes with shop drawings and renderings in as little as 20 minutes for core custom projects. Larger projects and take offs can usually be completed the same day.
Our pricing is very competitive and will allow you to maintain your profit margins on the items you sub to us, while freeing you to focus on your core strengths. We have a completely automated and integrated lumber purchasing system that electronically gets us 6 to 10 bids on every board we buy from reputable vendors. Our shop is highly automated with CNC, Wireless Internet, a detailed job costing system, stock management, industrial robotics and specialized equipment that we have designed and built to make our products better, faster. We run three shifts to maximize production and minimize lead times.
We look forward to working on your next project together so that you can leverage our investment in technology and efficiency in our specialized areas of solid louvered doors, custom doors, exterior wood shutters, cabinet doors and grillwork.