Estate Millwork for Architects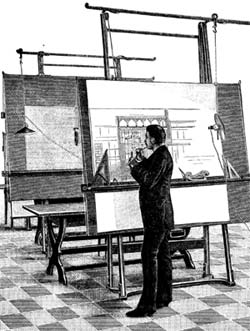 Estate Millwork caters to discriminating Architects who want to specify elegant custom millwork for their clients. We will work from your drawings or sketches to produce detailed shop drawings, CAD files, low resolution renderings, and if warranted, high resolution 3D photorealistic renderings to help you present your ideas to your clients.
Our shop is one of the most innovative and technically advanced in the country, and on a limited basis we give tours to architects who are interested in seeing how we have gone to the next level beyond CNC and CAD to use robotics and extreme automation to streamline the design and manufacture of millwork including exterior shutters and louvered doors. Even though we have a high degree of technology, every product we ship is hand assembled and hand finished.
We have a passion for architecture and have an extensive library emphasizing 18th century architecture, millwork and furniture including the works of Inigo Jones, Robert and James Adam, Hepplewhite, Chippendale and Sheraton that we can draw upon for inspiration. We also have a number of original 18th and early 19th century books on joinery, carpentry and fine furniture making from the perspective of the master craftsman. We can refer to these documents for technical details on long lost joinery and construction techniques, as well as a wealth of practical door designs, mouldings, sticking profiles and construction styles.