Frequently Asked Questions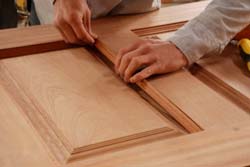 Why Spanish Cedar?
Spanish Cedar makes much more durable and long lasting exterior shutters because it is a stronger, harder, denser material. In fact, whereas Western Red Cedar (WRC) and other cedars are soft woods, Spanish Cedar is a hard wood like Mahogany. Furthermore, because of the strength of its wood fibers, Spanish Cedar can be kiln dried to a very low moisture content of 6%. WRC can only be dried to 15%, which means 15% of the shutter is water. The lower the moisture content, the drier the wood, the longer it will last. Although WRC is a cheaper material than Spanish Cedar, because of the efficiencies of our processing and use of technology, we can often undersell manufacturers making a lower grade product.
Where are Estate Millwork Products Made?
Our products are manufactured right here in the USA, at a state of the art factory in the Allegheny Mountains of Western Pennsylvania. Our craftsmen have generations of experience in wood products including forestry management, timber cutting, log sawing, planning, drying and millwork. One family that works in our plant is on their fourth generation of wood workers, and we have a lumber vendor that is on their 7th generation, dating to Revolutionary War Times. Our plant is near the site of the Historic Whiskey Rebellion.
How long does it take to fill an Order?
Our lead times are a standard 3-4 weeks for most products. Special orders with exotic wood or elaborate detailing with a high degree of customization may require longer. We can also produce orders on an expedited basis if a particular project requires shorter lead times. You can use our online design and ordering resources to expedite the process, and we also offer a rush service.
What can be customized on a louvered door?
When ordering a louvered door, the louver size, pitch, profile, spacing and material can be include in the specifications. Our standard louver sizes are ¼ X 1 ¼, 3/8 X 1 ¾ and ½ X 2 ¼ bullnose, and we offer chevron louvers, flat or beveled profiles, ship lapped, interleaved, faux, double and privacy panels as well. We specialize in customization so we can meet most design requirements.
Do you use solid woods or veneers to make your doors?
We make elegant, solid hardwood doors that do not have any of the aesthetic or structural limitations of veneer, hollow or particle doors. Our doors are surprisingly inexpensive, given that they may have 10 times as much hardwood in them as a composite door. The use of true hardwood gives the best finish, the best contouring and profiles, the most strength and heft, and is highly preferable for applications where appearance is important. We are very careful in our selection of materials and do all processing of rough lumber in house so that we can control quality.
Why Mortise and Tenon Joinery?
Although there are less expensive methods of joining a door's parts together, for hundreds of years cabinet makers, furniture makers and door makers have preferred the mortise and tenon joint because of its strength. A standard 6 panel door has 14 frame joints in it, and although other inferior methods of attaching them with dowels, screws, biscuits or glue are faster and less expensive, they are also less strong and do not give the benefits of the traditional and time tested mortise and tenon. We are able to manufacture to this high standard because we have invested in automatic equipment that takes the cost and time out of the process without sacrificing the quality. The joinery in our doors is indistinguishable from the joinery of doors made at the height of the furniture making renaissance, the 18th century.
What can be specified on a custom door or wooden shutter?
We allow our customers to designate thickness, width, height, sticking, panel profiles, material, hinging, jamb thickness, depth and sticking. The width of stiles, sub stiles, rails, rail placement, panel mouldings, bolection mouldings, radius, inlays and grill work. We have built a highly automated manufacturing system that allows us to generate drawings and bills of materials, CNC programs, shop drawings and renderings for a wide variety of variables, quickly easily. We believe we have the fastest turnaround time in the country in our estimating department, where most products can be quoted in under 20 minutes, and larger specialized jobs in the same day. Our quote package includes pricing, drawing, bill of materials, CAD information, low resolution renderings, and the possibility of high resolution renderings for special jobs.