Wooden Front Doors and Why You Should Have One
Published: October 30, 2020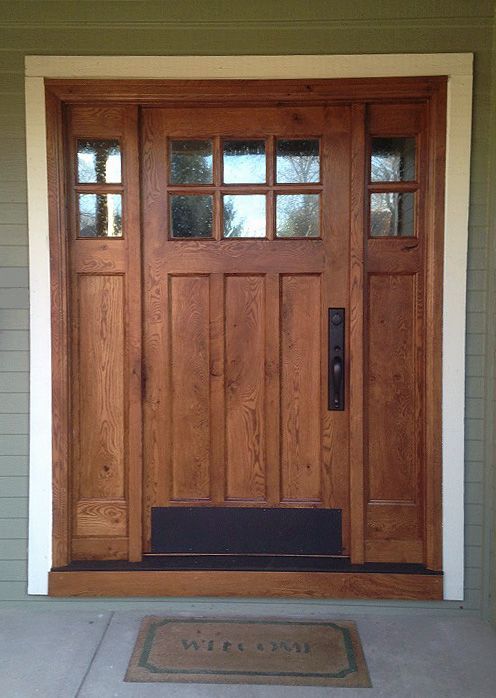 So you've finally decided to replace your old outdated front door that you've never liked and clashes with your overall décor choices. When looking at options you will likely be looking for something that is eye catching and enhances the curb appeal of your home, wooden front doors check both of these off.
When comparing front doors you'll come across cheaper options such as fiberglass and steel, while these materials can require less maintenance they can dent, are susceptible to rust and can't be easily repaired. Wooden doors however are great at resisting wear, can be fully customized to your needs.
What Wood is best for Front Doors?
When looking for a solid wooden front door, you'll want to select a wood species that will be able to withstand the elements; wood species such as Mahogany, Oak, Knotty Alder and Cedar are all great options when it comes to exterior doors. These species are naturally better at withstanding the elements than some lesser woods like pine. These woods also finish very nicely giving you the often sought after pop on the front of your home.
Energy Efficient and Secure
With proper installation wooden doors are great insulators of both sound and other exterior elements. Unlike metal which transfers temperature swings wood exhibits low thermal conductivity giving it a high heat-insulating capacity, allowing it to keep the outside weather out and your home comfortable.
Required Maintenance
Depending on exposure to the elements and finish, you may need to repaint or apply varnish every so many years to help prolong the life and beauty of your door. These same issues can arise in metal doors where constant sun rays will fade the paint and if the door is constantly exposed to water it can start to rust.
Selling Feature
Solid wood doors are widely considered a great selling feature in the current housing market by real estate agents. With the average home price being around half a million dollars you want to preserve that investment with a custom made wooden door to increase the value of your home. After all luxury items like wooden front doors are something you only purchase one time.
Build your new Custom Louvered Doors and get a Free Instant Quote Today
Our state of the art designers allow you to design and build completely customized Louvered Doors to fit your exact needs.
Questions or concerns contact us here or via 412.489.9148.
Build an Instant Quote
Get Started Designing Your New Solid Wood Doors Today!

French Doors

Louvered Doors

Mission Doors
Check Out Our Line of Louvered Doors

Recently Published
Sapele Mahogany Doors And Shutters
Published: November 15, 2021
What Is A French Door?
Published: November 08, 2021
What Is The Difference Between Interior And Exterior Doors?
Published: October 28, 2021
The Appeal And Benefits Of Wooden Front Doors
Published: October 15, 2021
Choosing Your Interior Door Style
Published: September 29, 2021
Why Are Outdoor Wooden Shutters So Popular
Published: September 15, 2021
Choosing The Best Wood For Your Exterior Front Door
Published: September 03, 2021
Custom Wood Doors -- Notes On Quality
Published: August 26, 2021
Different Types Of Closet Doors
Published: August 20, 2021
Choosing The Best Exterior Shutter Color
Published: August 13, 2021