Why Exterior Shutters are Important to your Home
Published: July 27, 2021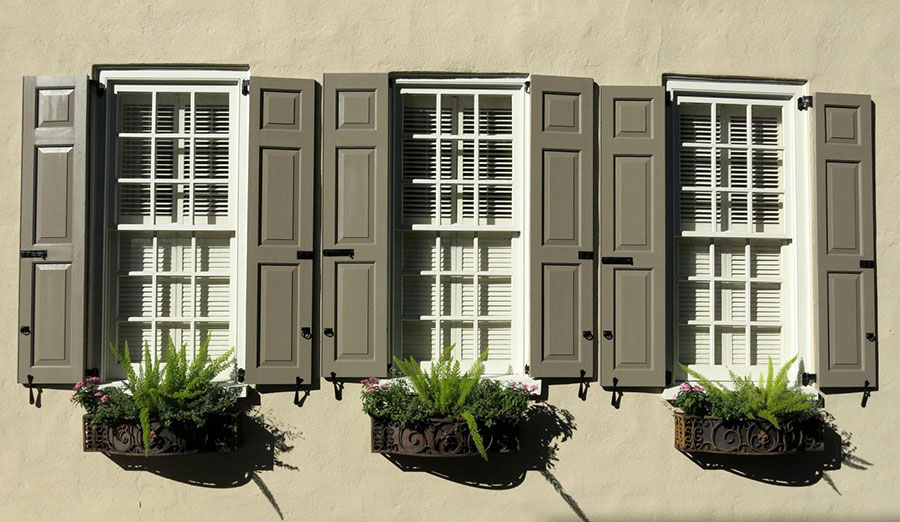 When looking at the front of your home does it look like it is missing something? Do your windows look plain and boring? If you can answer yes to any of these questions, exterior wooden shutters may be just what you are looking for to give your home that extra pop. Unlike their cheap vinyl counterparts outdoor wood shutters are still designed and constructed to be functional providing many extra benefits to you and your home. Here are some of what we think are the biggest benefits of installing wood shutters.
Improves Curb Appeal
Exterior wood shutters are elegant and beautiful; and will bring a whole new look to the exterior of your home. Wood shutters create a focal point when looking at the front of your home that will wow guests and those passing by. Not only can you get your shutters custom made and finished in a clear coat that will show off the beautiful natural grain of the wood, but they can be finished in any paint color to match your home's exterior.
Protection from the Elements
Not only do wood shutters make your home look good but they can also play a pivotal part in protecting your home from the elements. Whether there is a big winter storm coming in and you want to conserve some energy and keep the warm air in or you have a tropical storm bearing down on you and you need to quickly cover up your windows to protect your home from any flying debris.
Increases Home Value
Adding wooden exterior shutters to your home is an investment that will pay dividends when it comes time to sell your home. The look, quality and added protection of exterior shutters will give your house an edge over other homes in your area and can increase your asking price.
Build your new Custom Louvered Shutters and get a Free Instant Quote Today
Our state of the art designers allow you to design and build completely customized Louvered Shutters to fit your exact needs.
Questions or concerns contact us here or via 412.489.9148 .
Build an Instant Quote
Get Started Designing Your New Wooden Shutters Today!

Arched Shutters

Combination Shutters

Raised Panel Shutters
Check Out Our Line of Louvered Shutters

Recently Published
The Appeal And Benefits Of Wooden Front Doors
Published: October 15, 2021
Choosing Your Interior Door Style
Published: September 29, 2021
Why Are Outdoor Wooden Shutters So Popular
Published: September 15, 2021
Choosing The Best Wood For Your Exterior Front Door
Published: September 03, 2021
Custom Wood Doors -- Notes On Quality
Published: August 26, 2021
Different Types Of Closet Doors
Published: August 20, 2021
Choosing The Best Exterior Shutter Color
Published: August 13, 2021
A Double Entry Door Or A Single Entry Door? That Is The Question
Published: August 04, 2021
Why Exterior Shutters Are Important To Your Home
Published: July 27, 2021
Interior Doors You'Ll Love In Your Home
Published: July 08, 2021