What Makes Wood Doors Superior
Published: May 25, 2022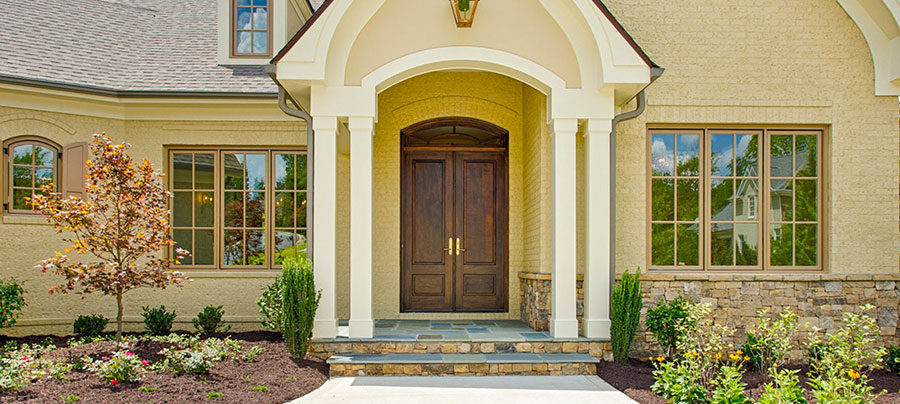 When it comes to selecting the right door for your home there are several factors that will go into this decision but first and foremost is what material will your door be made of wood, steel or fiberglass.
We believe that solid hardwood is the best option when it comes to your new doors, and we think it is important to tell you why we feel this way. Here are a few reasons why we think you won't want to choose anything other than beautiful hardwood for your new door.
Every Wood Door is Unique
Personalizing your home's aesthetics has become a big part in recent design trends, because every homeowner wants their home to reflect their personality and their tastes. Just like no two people are alike, no two pieces of wood are the same making every door we build truly unique. Since each piece of wood used in the construction of a door is different, this creates a truly unique natural looking door that is unique to you and your home.
Many Different Styles
Whether your door will be an accent piece to the design of the room, focal point of that room or purely functional the many styles and hardwood options provide endless possibilities. When it comes to choosing wooden doors the first thing to consider should be wood type as every hardwood is different from the next. Each wood we offer has a different grain pattern that can make a dramatic difference in the appearance of the door and space it is in. If you are planning on staining the door you may want a more distinct grain and color like Teak, Mahogany or an Oak. If you are going to paint your new door you may want to choose Poplar if it is an interior door, if you are choosing an exterior door you will want a hardwood that will naturally withstand the exterior elements like a Cedar or Mahogany.
With so many wood choices and door styles to choose from it can be difficult to make a decision. You can explore all the options we have to offer and see real time rendering of your choices using Estate Millwork's state of the art door designer.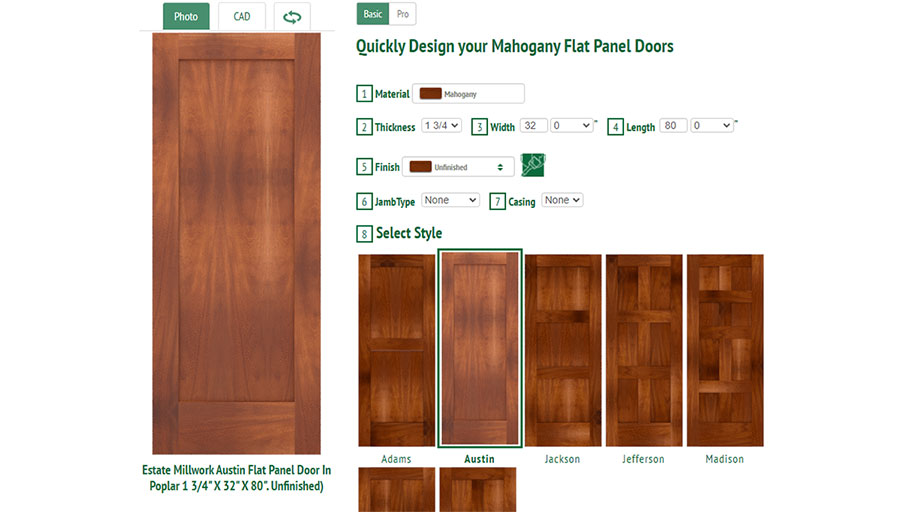 Using the Estate Millwork door designer you can create a completely custom door to fit any size project. Whether you are looking for that eye-catching sliding barn door, a custom louvered door or a more impactful front door you can find and build it to your exact specifications using the door designer. Anything is possible so if you don't see something you are looking for contact our sales team and we will be more than happy to put together something to match your needs.
We Know Wood Doors
People often ask us how strong is a wood door and will it last and with history behind us we can answer these questions with an emphatic yes. Wooden doors have been around for centuries and will continue to be around for years because of their strength and beauty. Estate Millwork has been hand crafting wooden doors for over two decades using old world mortise and tenon joinery that has been used for hundreds of years because of its strength.
Build your new Custom Louvered Doors and get a Free Instant Quote Today
Our state of the art designers allow you to design and build completely customized Louvered Doors to fit your exact needs.
Questions or concerns contact us here or via 412.641.0177 .
Build an Instant Quote
Check Out Our Line of Louvered Doors

Recently Published
Longing For A Warm And Cozy Home? Try Home Decorating With Barn Doors
Published: May 26, 2023
The Wooden Flat Panel Doors That You Can Use For Exterior Purpose
Published: May 11, 2023
What Louvered Shutters Can Do For You
Published: May 02, 2023
French Doors Improve The Ambiance Of A Home
Published: April 18, 2023
Choosing Raised Panel Doors For Better Home Value
Published: April 07, 2023
What Are Louvered Doors And Why Are They So Popular?
Published: March 27, 2023
7 Reasons You Will LOVE Pocket Doors
Published: March 22, 2023
Bahama Shutters - The Best Way To Your Dream Windows
Published: March 15, 2023
Custom Raised Panel Shutters That Will Last A Lifetime
Published: March 13, 2023
How Custom Wood Doors Can Improve The Look Of Your Home
Published: March 10, 2023