What is a French Door?
Published: November 08, 2021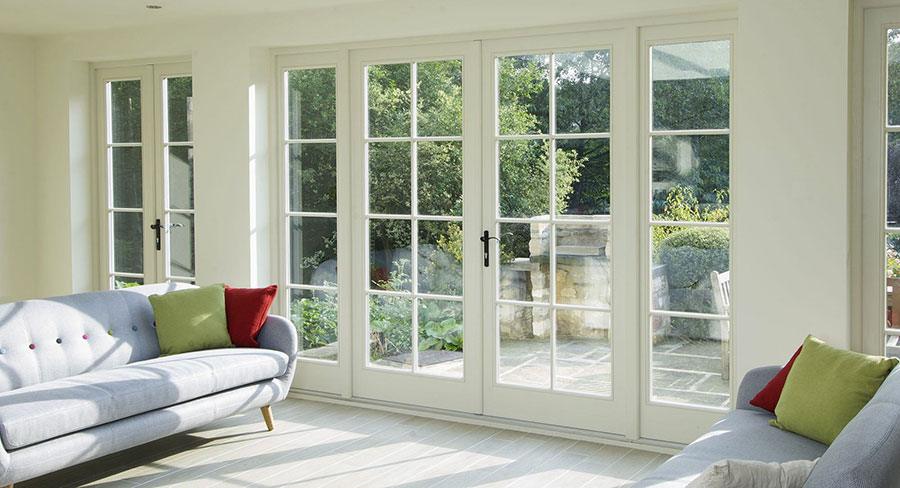 A French door or sometimes otherwise known as a French window is traditionally a door made up of panes of glass surrounded by wooden frames. The glass panels in French doors are typically rectangular and cover a majority of the door. While French doors are useful in many situations they are typically used as a design element. These doors are most frequently used in spaces where homeowners want to bring in more natural light while still having a way to divide living areas while still maintaining an open feel. While it is more common to see French doors in the traditional sense you may sometimes see two solid wooden doors hung together which are more commonly known as double doors referred to as French doors.
Functional yet Aesthetic
French doors are functional yet typically more aesthetic as they create a dramatic effect in whatever room they are in. For example French style doors are great for making indoor and outdoor living areas feel connected, such as a kitchen opening out onto a patio or French doors that open onto a balcony from the master bedroom.
Versatile
French doors are incredibly versatile which can make them a repeating theme throughout a home. A pair or in some cases several pairs of French doors are often used to make a home feel more open. French doors can be used in stationary position using a bolt or post to form a solid wall to allow the room to lit with natural lighting.
Adding French doors to your home can prove to not only be a good investment but an attractive addition wherever they are placed. In most cases French doors will increase the potential sale price of your home. Many times French doors can make that dramatic difference for potential buyers or even visitors to your home.
Build your new Custom French Doors and get a Free Instant Quote Today
Our state of the art designers allow you to design and build completely customized French Doors to fit your exact needs.
Questions or concerns contact us here or via 412.489.9148.
Build an Instant Quote
Get Started Designing Your New Solid Wood Doors Today!

Custom Doors

Raised Panel Doors

Mission Doors
Check Out Our Line of French Doors

Recently Published
Why Teak Boat Doors?
Published: January 07, 2022
Using Sliding Barn Doors In Your Home
Published: December 23, 2021
External Doors – Front And Back Exterior Wooden Doors
Published: December 06, 2021
Sapele Mahogany Doors And Shutters
Published: November 15, 2021
What Is A French Door?
Published: November 08, 2021
What Is The Difference Between Interior And Exterior Doors?
Published: October 28, 2021
The Appeal And Benefits Of Wooden Front Doors
Published: October 15, 2021
Choosing Your Interior Door Style
Published: September 29, 2021
Why Are Outdoor Wooden Shutters So Popular
Published: September 15, 2021
Choosing The Best Wood For Your Exterior Front Door
Published: September 03, 2021