What are Craftsman Style Front Doors?
Published: September 11, 2020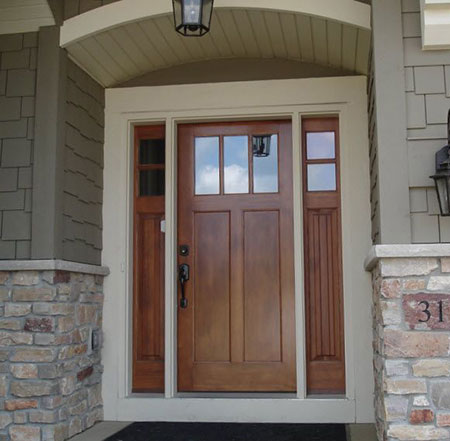 First impressions do count. There's nothing that will add character to the entryway of your home like a custom-made craftsman door, the Craftsman-styled door is a classic that will be around a long time.
Even though craftsman style homes were popular in the early 20th century there are still these cottages and bungalows found throughout the United States. If you own one of these homes you may be in the market for a door to complement the simplicity and craftsmanship of your home.
What is a Craftsman Style Home
The craftsman style home is largely a California phenomenon was born out of the Arts and Crafts movement and featured simple styles handcrafted from natural materials such as hardwoods and stone. Today we consider a craftsman home to be one with a low profile, exposed rafters and beams, overhanging eaves, and a low pitched roof.
What's in a Craftsman Door
Authentic craftsman doors are made from solid hardwood, the most popular choices are mahogany, cherry and oak. The doors can either be painted to match the colors of the house or stained to bring out the natural grain of the wood. The trademark look of craftsman doors generally consist of glass in the top third of the door followed by wooden panels a moulding on the bottom two thirds of the door.
While craftsman style doors have been around for a while, they've never gone out of style, probably due to their fine craftsmanship and sophisticated aesthetic. You do not need to have a craftsman style home to enjoy the beauty of a traditional craftsman style entry door. These lovely doors can improve your curb appeal and make a lasting impression on guests.
The design and detail of craftsman entry doors is impressive, intricate and aesthetically pleasing so if you are in market for a unique durable door wooden craftsman-style might be for you.
Build your new Custom and get a Free Instant Quote Today
Our state of the art designers allow you to design and build completely customized to fit your exact needs.
Questions or concerns contact us here or via 412.641.0177 .
Build an Instant Quote
Get Started Designing Your New Solid Wood Doors Today!

Flat Panel Doors

Louvered Doors

Raised Panel Doors

Recently Published
Bahama Shutters - The Best Way To Your Dream Windows
Published: March 15, 2023
Custom Raised Panel Shutters That Will Last A Lifetime
Published: March 13, 2023
How Custom Wood Doors Can Improve The Look Of Your Home
Published: March 10, 2023
Sliding Barn Door Ideas That Will Blow Your Mind
Published: March 03, 2023
Choosing A New Style For Our Home: Board And Batten Shutters?
Published: February 16, 2023
5 Things To Consider When Choosing Hardwood Lumber
Published: February 08, 2023
Your Guide To Choosing, Installing, And Maintaining Flat Panel Shutters
Published: January 30, 2023
Custom Wood Shutters - A Unique, Durable Alternative To Aluminum
Published: January 27, 2023
Wooden Customized Replacement Cabinet Doors: The Best Way To Update Your Cabinets
Published: January 23, 2023
Wood Shutters: A Stepping Stone From The Past
Published: January 17, 2023