Understanding and Specifying Materials for Custom Wood Doors
Published: June 08, 2020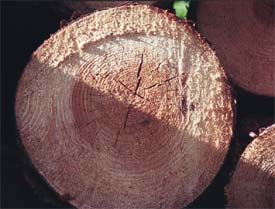 Whether you are trying to closely match an existing style of door, or would like to design a door for a special application, there is a wide variety of basic materials and construction methods in practice, each with its own benefits and drawbacks.
Materials.
Wood doors can be made from solid woods, composites, veneers, engineered components or a combination of these. If you are looking for the most traditional and historically accurate style of door, you should specify solid construction for both the frame (rails and stiles), as well as panels. Prior to the 1940s, this was the only type of door available, and is by many millwork aficionados considered the best and only way to make a door.
The more modern construction materials have evolved from an increase in the cost of premium hardwood materials, a desire to maximize "stability", cost and longevity as well as concern for the environment. As such, wood doors are sometimes veneered, whereby thin slices of premium hardwoods are glued onto all of the visible faces of a door frame made of either a cheaper wood, waste products or composites. A discriminating eye can detect a veneered door, even a very well done one, from a distance because every edge and corner of the door involves two pieces of wood (with slightly different graining and coloring), rather than one piece of wood. Veneering is a very old practice and for other reasons was developed into an art form in the eighteenth century by cabinet and furniture makers such as Thomas Chippendale.
Some wooden louvered doors are made with a compromise - solid wood panels in the door because it is very difficult to veneer the profiles on the panels, with engineered and veneered stiles. Rails can be solid or veneered as well. The promise of these doors is that they have more stability because the stiles are made of small pieces of wood which is less like to deform than monolithic construction, and they have more of the full aesthetics of a true solid door.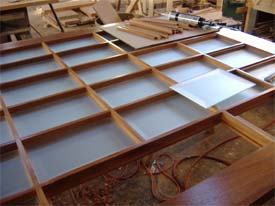 Construction Details
The strength of a wood door is governed in great measure by the strength of the joints that hold the individual components together. Beginning with traditional door designs from the pre 1940s, most doors were made from solid wood, and the frames were assembled with mortise and tenon joinery, optional pins through the tenons, and a wide variety of sticking profiles. A typical 6 panel door would have 6 panels, 2 stiles, 3 sub-stiles and 4 rails for a total of 14 mortise and tenon frame joints. The mortises and tenon joint has the most strength of any wood joint, and is governed by the length, thickness and glue area of the tenon. Well made wooden doors seldom rack, or fail at the joints, even when there are so many of them.
Because of the cost and time involved in creating mortise and tenon joinery, modern door manufactures of developed alternative joinery methods including doweling, screwing, pocket joinery, biscuits and butt gluing. These methods are less labor intensive and can often be performed in a mass production environment on specialized equipment. The results are often adequate, especially in smaller doors like cabinetry and furniture. But if your project requires an elegant 3" thick solid rail and stile entrance door, you definitely want to specify mortise and tenon joinery.
Environmental Impact
Sustainable forestry management is becoming more and more important as our tree resources are continually depleted by increased demand, as well as urban, suburban and rural sprawl. For the environmentally conscious, doors can be specified to be made from FSC (Forestry Sustainability Council) certified materials, or with other green techniques like re-processed wood (from old barns, old wood floors, demolition projects) or wood substitutes like MDF, particle core or PVC. For utility grade doors, where aesthetics are not a concern, there is practically no downside, however for premium architectural grade for projects where aesthetics is important, other methods need to be used to maintain the visual appeal of the door.
The advent of CAD, CNC and software control of milling equipment has greatly helped to minimize the waste created in the door manufacturing process. Because of the expense of hardwoods, manufactures have installed optimizing rip saws and chop saws, as well as elaborate software to make sure that every scrap of wood is used in the door, and cut off and rippings are kept to the bare minimum, thus stretching the precious supply of hardwoods to make more doors that require the full natural effect of woods.
Build your new Custom Doors and get a Free Instant Quote Today
Our state of the art designers allow you to design and build completely customized Custom Doors to fit your exact needs.
Questions or concerns contact us here or via 412.641.0177 .
Build an Instant Quote
Check Out Our Line of Custom Doors
Recently Published