Sliding Barn Doors: The Modern Rustic Look
Published: July 02, 2021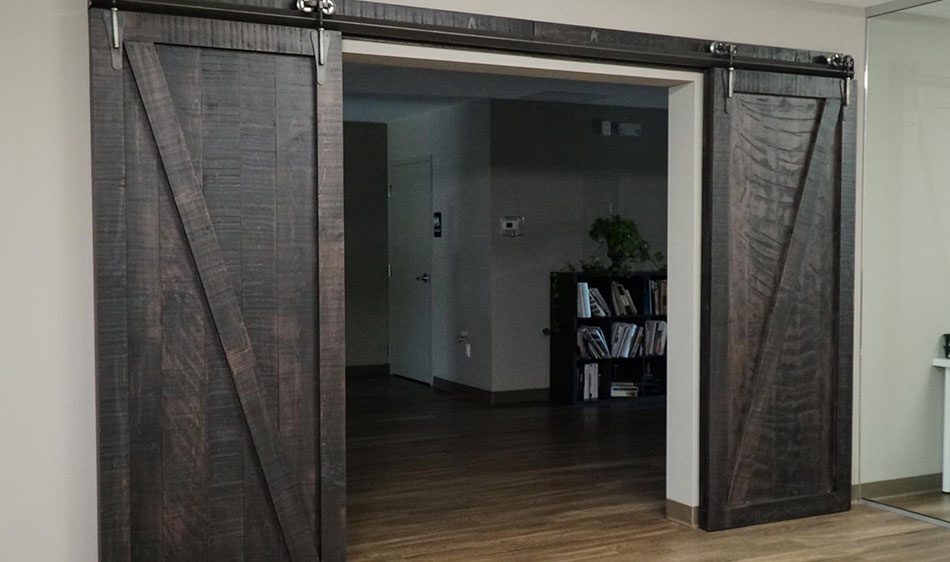 For most people, a door is merely an object, a mundane device that allows access through a wall, plain and commonplace, most doors look alike. For some though, a door can signify change. A door, in itself, can be unique and beautiful. The look, feel, and even the action of motion can be distinct from any other door. It's no longer a just a door, it's a gateway and not just through a wall anymore, but to a new perception of the aesthetic importance of experiencing a unique take on an everyday contraption.
From antique, salvaged, and traditional to modern, custom, and DIY, sliding barn doors have made the leap from the barn into the home. Incorporating sliding barn doors into the interior of your home can not only provide a more attractive look between rooms, but can also increase functionality of that room that a traditional hinged door may not provide. By requiring less floor space than a regular swinging door, a sliding barn door will save floor space by making use of a minimally available area.
Traditional or modern? Contemporary or classic?
Varying tastes and designs, as well as enhanced lifestyles and innovation, have given rise to a wide choice of interior barn doors. These rustic doors have become popular in the market today due to their aesthetic design and their space saving features. Instead of needing an extra space for opening and closing the door, barn doors are made in a way that you can slide it back and forth hence, eliminating the need for large space. In addition, they can create a unique rustic look and enhance the ambiance of any room. Several barn doors design and hardware can suit every individual's requirements including modern and industrial requirements.
The interior barn door has provided suitable alternative to the standard swinging doors that are currently in your home. They have become increasingly popular to many homemakers for various reasons. The biggest reason being that the door has better hardware to allow it to open and. Standard swinging doors have hinges which can pose problems with time, they tend to rust and make creaking sound that can be irritating when opening and closing the door. Another alternative to standard doors are pocket doors, the hardware for these doors can become quite expensive and installation is not an easy process. Installing pocket doors can come with many hassles, for example it you will need to remove the dry wall on the adjacent wall to install the track and then repair when finished. For the homeowner who doesn't want spend a lot on sliding interior doors, interior sliding barn doors are the perfect choice.
When it comes to choosing new sliding barn doors the there are many options available to choose from that can be customized to fit your exact needs. Before purchasing a new door you should consider their purpose and hardware to be used for the door.
Build your new Custom Barn Doors and get a Free Instant Quote Today
Our state of the art designers allow you to design and build completely customized Barn Doors to fit your exact needs.
Questions or concerns contact us here or via 412.489.9148 .
Build an Instant Quote
Get Started Designing Your New Solid Wood Doors Today!

Custom Doors

Mission Doors

French Doors
Check Out Our Line of Barn Doors

Recently Published
The Appeal And Benefits Of Wooden Front Doors
Published: October 15, 2021
Choosing Your Interior Door Style
Published: September 29, 2021
Why Are Outdoor Wooden Shutters So Popular
Published: September 15, 2021
Choosing The Best Wood For Your Exterior Front Door
Published: September 03, 2021
Custom Wood Doors -- Notes On Quality
Published: August 26, 2021
Different Types Of Closet Doors
Published: August 20, 2021
Choosing The Best Exterior Shutter Color
Published: August 13, 2021
A Double Entry Door Or A Single Entry Door? That Is The Question
Published: August 04, 2021
Why Exterior Shutters Are Important To Your Home
Published: July 27, 2021
Interior Doors You'Ll Love In Your Home
Published: July 08, 2021