Sapele Mahogany Doors and Shutters
Published: November 15, 2021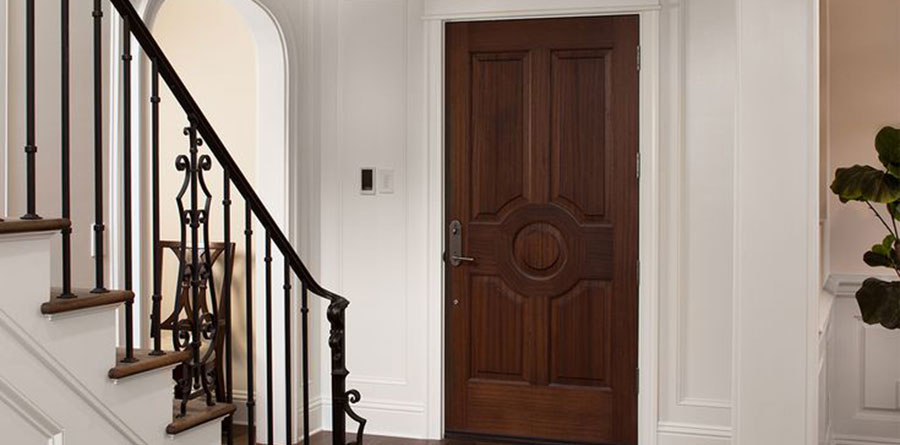 It can be a tall task when it comes to choosing a wood species for you new wood doors or wooden shutters. Some of the more popular exterior hardwoods such as Mahogany and Cedar are frequently used because of their ability withstand the elements and still look beautiful. However there is another option with a similar appearance to Mahogany and is very sustainable.
What is Sapele Wood?
Sapele is a large hardwood tree with trunks that exceed 6 feet in diameter that naturally has a widespread growth range across Africa. Sapele is commonly known as an exterior hardwood and much harder than much of the typical exterior woods like Cedar and Cypress. It is a wood of medium hardness and is harder than most domestic North American Species and almost twice as hard as Genuine Mahogany. Additionally Sapele grows with an interlocking grain pattern where the fibers twist around the tree as they grow. While the grain pattern is still moving in the same direction, the interlocking pattern acts to cancel out a lot of movement that is typically found across the grain. This hardness and medium density as well as propensity for straight grained boles makes Sapele wood very stable and predictable from the moment it is felled to when it is pulled from a drying kiln.
Sapele lumber is often marketed as a type of African Mahogany and in some ways this is true since Sapele is in the Mahogany family. However there are several species that get lumped under the African Mahogany name. Mahogany tends to get thrown onto all kinds of things to make them more luxurious or expensive so Mahogany Sapele and Sapele Mahogany are names that show up quite a bit in trade manifests and architectural specifications.
Sapele is denser and nearly twice as hard than Mahogany and not all of the Mahogany labeled species behave as well and they vary dramatically in density, color, and stability. However, the comparison to Mahogany as an outstanding exterior grade wood that has rich reddish-brown heartwood holds true. Sapele is most often used as a window and door material because it is so stable and almost completely rot and weather resistant. The grain and pore structure is tighter than Genuine Mahogany so making Sapele great for painting. Sapele Mahogany is definitely the cream of the crop when it comes to African Mahogany like hardwoods.
Sapele for Doors and Shutters
We love Sapele for doors and shutters, its charming red toned brown color offers unique aesthetics to the home in comparison to other hardwoods. One of the many benefits of its color is how well it pairs beautifully with a range of brickwork styles. Using a consistent color palette in your exterior home design can provide a sophisticated premium look to your home. Sapele doors and shutters are low-maintenance and last a long time because of its density and durability.
Build your new Custom Louvered Shutters and get a Free Instant Quote Today
Our state of the art designers allow you to design and build completely customized Louvered Shutters to fit your exact needs.
Questions or concerns contact us here or via 412.489.9148.
Build an Instant Quote
Get Started Designing Your New Wooden Shutters Today!

Flat Panel Shutters

Board & Batten Shutters

Arched Shutters
Check Out Our Line of Louvered Shutters

Recently Published
Why Teak Boat Doors?
Published: January 07, 2022
Using Sliding Barn Doors In Your Home
Published: December 23, 2021
External Doors – Front And Back Exterior Wooden Doors
Published: December 06, 2021
Sapele Mahogany Doors And Shutters
Published: November 15, 2021
What Is A French Door?
Published: November 08, 2021
What Is The Difference Between Interior And Exterior Doors?
Published: October 28, 2021
The Appeal And Benefits Of Wooden Front Doors
Published: October 15, 2021
Choosing Your Interior Door Style
Published: September 29, 2021
Why Are Outdoor Wooden Shutters So Popular
Published: September 15, 2021
Choosing The Best Wood For Your Exterior Front Door
Published: September 03, 2021