Louvered Doors in your House
Published: September 01, 2020
Our homes can have many doors, whether they are bedroom doors, bathroom doors, pantry doors, or utility doors that hide something from plain site such as a washer and dryer. You'd be surprised by all the places louvered doors can be used throughout your home; bathrooms, closets, laundry rooms, and utility rooms. Louvered doors are great for small spaces that require some privacy all while maintaining natural air circulation.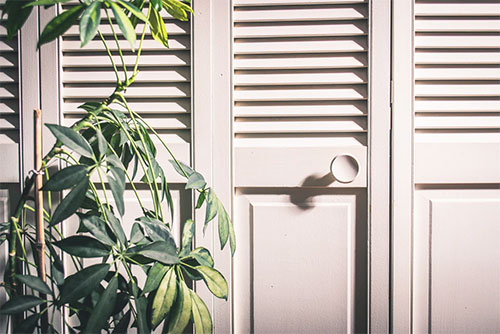 Benefits of Louvered Doors
There are many benefits to having louvered or shutter doors, they are great for small confined spaces where ventilation is a must. The louvers or slats are designed in a way to allow both warm and cool air to pass through the door.
The louver spacing all depends on where you are installing a louvered, louvers spaced close together provide more privacy while those spaced further apart allow more air and light to pass through. Estate Millwork offers fully customizable louvered doors in several different wood species.
Advantages of Our Custom Louvered Doors
Our solid wooden doors are whole cut from one piece of wood, ensuring superior quality and durability, unlike many of our competitors. The high level of customization that can be achieved with our custom louvered door capabilities ensures that you receive a wooden louvered door with the following benefits:
Louvered Door Features
Louvered doors are made from FAS premium hardwoods
Louvered doors are crafted using our solid wood milling process
Louvered doors are energy efficient exterior wooden doors
Louvered doors provide sound dampening qualities
Door louvers and fixtures are fully customizable
Louvered doors are primed and finished, both for interior doors and exterior doors
Free help from our custom wooden door experts
Our Louvered Doors are Energy Efficient
Whole cut solid wood is used to fabricate all of our louvered doors. This ensures that there are no cracks, low quality joins, thin filler wood, or other inferior milling techniques that can cause louvered wooden doors to seep warm air in the winter or cool air in the summer. Couple this with the ability design a custom louvered door that fits your entryway seamlessly, and you will have one of the most energy efficient wooden louvered doors available.
Louvered Doors with Superior Durability
Only the finest quality, FAS premium grade hard woods are used in both our interior wooden louver doors and exterior wooden doors. For your louvered doors, choose from cedar wood, mahogany wood, cherry wood, maple wood, poplar wood, teak wood and oak wood. Different wood types are suited for different climates and environments. If you have questions about which woods are best suited for louvered doors for your location, please feel free to call our custom door specialists at 1.866.322.0040 for assistance.
Louvered Doors are Fully Customizable
Get exactly what you want with our online custom louvered door tools, over the phone with our custom door specialists, or on your own. Choose the wood type for your louvered door, louver style, size, finish, hardware and more. We even make fully custom wooden louver doors from your sketches. Our state of the art milling process and traditional, old world techniques come together to provide you with the elegant look that matches your interior or exterior decor perfectly.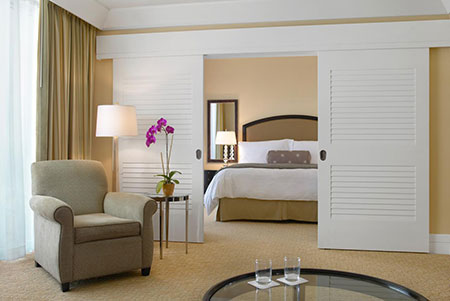 Louvered Pocket Doors are an Elegant Way to Divide Living Spaces
Louvered Doors can be ordered in a sliding or bypass configuration for closets or rooms whereby the louvered door is received by an opening in the wall, either on one or both sides of the opening. Commonly used for larger doors that partition walk in closets, rooms, or living spaces, pocket doors are a very convenient way to quickly separate or unify spaces. When open, the doors are not visible. Probably the most complicated method for installation, it often requires pre-planning, for the removal of studs and the addition of headers, and it is most economically done in new construction. However, it is a very common application in well-built older homes as well, and Estate Millwork can exactly match your existing pocket doors if they need to be replaced, or to be used in a remodeling.
Precision Crafted Louvered Doors Using State of the Art CNC Machinery
Solid Louvers
Each louver in our louvered doors is precision machined in a 5 head moulder that can be configured to mould any of our 3 standard production profiles, or custom profiles as specified by the customer. We offer 1/2" X 2 1/4", 3/8" X 1 3/4", and 1/4" X 1 1/4" bullnose profiles, but also have tooling for chevron, beveled, and other louver profiles. Whether the louvered door is to use fixed louver or operable louvers, we can even create custom tooling to match existing millwork, or to provide the ultimate in personalization and detailing.
True Louvered Door Mortises and Louver Mortises
Each louver in a fixed louvered door is seated in a 7/16" deep mortise in the door stile. Our CNC machining equipment be instantly programmed to program any variation of louver size, profile, pitch, and spacing, that gives us unlimited flexibility to match historic millwork, or to create custom louvered doors to a precise specification in terms of louver count, rail placement, and air flow. In the same pass as the louver mortises are being created, our equipment also creates the larger mortises for each rail in the door. Unlike many custom door manufacturers today, Estate Millwork does not use cheap dowels, veneers, screws, or biscuits. Instead we use old fashioned mortise and tenon joints, even though they are considered by other custom door manufacturers as too expensive. Because we have invested heavily in automation, our cost to produce highly custom louvered doors using solid materials and premium joinery is much lower than other manufacturers, hence: higher quality, lower price.
Solid Tenons
The tenons on both ends of each rail are engineered to give maximum stability to the louvered door frame, and when combined with our hardwood dowling, the door frame will stay together and be extremely stable, even without glue. But of course we use glue for added strength. For larger louvered doors, we use a 10 inch baserail that has two tenons and a third feather tenon for additional strength that connects the two main tenons. These tenons are precision machined on a propriety tenon machine that Estate Millwork designed and custom built. Our sophisticated mortise and tenon joinery preserves 100% of the quality of traditional mortise and tenon joinery at a fraction of the cost.
Questions about your louvered doors? If you have any questions about our interior wooden doors, exterior wooden doors, or custom louvered door design process, please call 1.866.322.0040 and one of our custom door design experts will help you for free with no obligation!
Build your new Custom Louvered Doors and get a Free Instant Quote Today
Our state of the art designers allow you to design and build completely customized Louvered Doors to fit your exact needs.
Questions or concerns contact us here or via 412.641.0177 .
Build an Instant Quote
Get Started Designing Your New Solid Wood Doors Today!

Mission Doors

Custom Doors

Barn Doors
Check Out Our Line of Louvered Doors

Recently Published
Enhance Your Home With Wood Shutters
Published: July 01, 2022
Custom Front Doors
Published: June 16, 2022
Outdoor Kitchen Cabinet Doors
Published: June 08, 2022
Elegant Wine Cellar Doors
Published: June 01, 2022
What Makes Wood Doors Superior
Published: May 25, 2022
Beautiful Shutters For Your Traditional American Cape Cod Home
Published: May 18, 2022
Solid Hardwood Cabinet Doors In And Outside Your Home
Published: April 18, 2022
What Makes Wooden Exterior Shutters Superior
Published: April 11, 2022
French Patio Doors: Bringing The Beautiful Summer Weather Indoors
Published: April 04, 2022
Louvered Doors For A More Comfortable Enjoyable Summer
Published: March 25, 2022