It's All About your Homes Front Door
Published: August 10, 2020
Your front door is pivotal in your home's curb appeal, security and energy efficiency. Exterior doors set the tone for your home, they are usually the first thing people notice about your house when they walk up. It is important to have a well-functioning entry door because of how often you use them on a daily basis. Whether it is your front entry door or your patio door there are many different types and styles to choose from.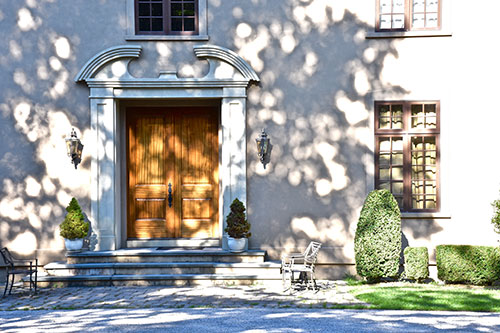 Wood Front Doors
Wood is a homeowner's guilty desire, the look of a wooden entry door is unparalleled when compared to other types of exterior doors. Wooden entry doors are very sturdy and provide great security for your home. There are many different types of doors on the market today that try and mimic the look of wood in some way, but to us there are many advantages in choosing a solid wooden door over a fiberglass or steel door.
Boost your Curb Appeal
Solid wood doors are popular for their aesthetic appeal and are considered the most attractive material for front doors. Exterior front doors are available in a variety of different species such as the classic mahogany, oak, walnut, etc. The natural beauty and warmth real wood provides a look that can't be matched by other door materials.
Wooden Entry Doors are Completely Custom
Wood doors are easily customizable with panels, mouldings, and any special features to make your front door completely your own. Wood doors can be stained to emphasize the natural grain or painted to make a statement. Since wood can be shaped wood doors can be custom made to fit almost any shaep and size of door. Glass can also be added to custom entry doors for added lights.
Wood Doors are More Comfortable
Not only is wood energy efficient by protecting your home from the heat and cold, but it also absorbs sound to diminish exterior noise pollution from outside.
Wood is Durable
Wood doors can be long lasting and durable; they are less likely to dent and scratch and are easier to repair. Wood doors do require some maintenance but wood is one of the best materials for exterior doors.
Are you looking to upgrade your front door? If so check out our Door Designer where you can design, price, and purchase a new custom front door for your home.
Build your new Custom Louvered Doors and get a Free Instant Quote Today
Our state of the art designers allow you to design and build completely customized Louvered Doors to fit your exact needs.
Questions or concerns contact us here or via 412.641.0177 .
Build an Instant Quote
Check Out Our Line of Louvered Doors
Recently Published