Is Plywood a Real Hurricane Shutter?
Published: August 06, 2020
When hurricanes are on the horizon, we see people make a mad dash to one of the big box stores for truckloads of plywood to cover their windows and doors in hopes of protecting their homes from the impending storm. The question is, is plywood considered a real hurricane shutter? In short the answer is NO, there are very real issues with using plywood to protect your home. While it is better than nothing once the plywood gets wet it will likely warp and it isn't adequate in protecting again projectiles.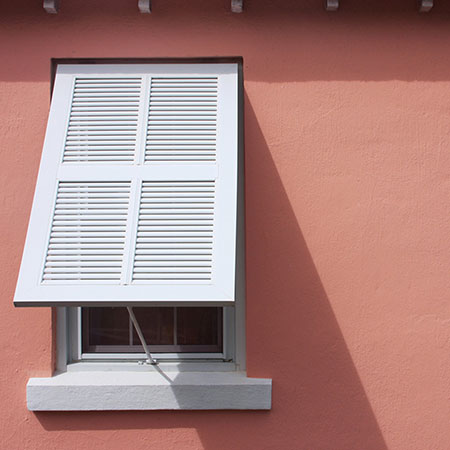 The Better Alternative: Wooden Hurricane Shutters
A better option to using plywood is wooden hurricane shutters. Bahama / Bermuda shutters are very popular in tropical climates not only for the ease of use, but also quick deployment for protection when a hurricane is bearing down on your region. Bahama shutters also provide the ability to regulate temperature inside your home during the summer months by allowing the home owner to prop them open to vent out the hot air and allow the cool breeze to pass through, all while providing shade from the sun. Shutters are permanent fixtures on the exterior of your house so not only are they providing you protection from the elements, but they are also adding charm, beauty, and value to your home.
Bahama shutters aren't the only type of shutters that will offer protection against the elements, more colonial types of types of shutters such as louvered or paneled shutters also provide the same protection, charm, and functionality while offering a different look that the typical tropical Bahama / Bermuda shutter.
Bahama wooden shutters add distinctive touches to your home or condominium. Unlike most commercial outdoor wood shutters, this shutter style is top-hinged. Bahama shutters swing up and away from the home to open, and can be closed easily, too.
The Bahama /Bermuda shutter style dates back to the epoch of British Colonialism when the British set up plantation outposts in Bermuda. Today, Bermuda shutters are installed on a wide variety of homes, and can complement many architectural styles. The chief advantages of the Bermuda shutter style are protection from weather and climate control. Because the shutters can be opened and closed so quickly, they are good choices for homes in storm-prone climates. They can be shut in advance of a storm to protect your home's windows. Our Bermuda shutters feature vents, or louvers, in the shutter body. These slim wooden slats encourage air circulation . a treat on a stifling summer day. You can prop your Bermuda shutters at various angles, as well, to control air flow into your home.
Bahama Shutters: The Estate Millwork Difference
Estate Millwork Bahama / Bermuda shutters are crafted from solid hardwoods. There is not a single ounce of particle board or plastic in these pieces. We offer four distinctive styles of Bahama shutters, each evoking a distinct sense of place.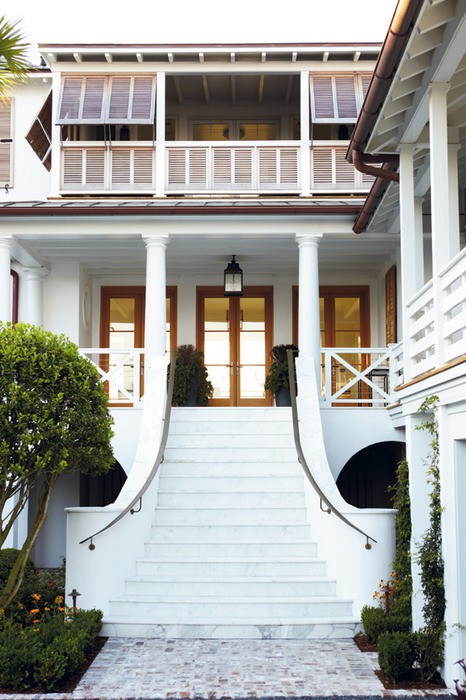 The Saint George - This classic Bahama / Bermuda shutter style consists of two long columns of solid wood louvers set inside pure wood frames. The Saint George is a very versatile shutter style and offers excellent ventilation to your home interiors.
The Island Breeze - This shutter style is similar to the Saint George style, but the louver slats are thinner. This style gracefully complements modern architecture, but is a treat to see on Victorian-era houses, as well.
The Governor - This style of Bahama / Bermuda shutter is similar to the Island Breeze, but with one difference: the addition of a center cross panel, which adds a solid, mature touch. The Governor goes well with various styles of period architecture -- Colonial and early American styles, for example, look great with Governor Bahama shutters.
The Kingston - The Kingston style offers a very unique look. It consists of three extremely narrow columns of wooden louvers, set inside thick, pure wood frames. Like The Governor, this style is accented by a sturdy wood crossbar at the center of each shutter. Frank Lloyd Wright or Walter Gropius-style architecture looks beautiful with Kingston-style Bahama shutters.
Each shutter style can be ordered with fixed or operable louvers. Customize your Bahama shutters further with mouldings, shutter horns, or custom stiles and rails.
Estate Millwork: Sustainable Craftsmanship
Our shutter company is proud to offer top-quality craftsmanship in each pair of Bahama shutters we create. We start with genuine, top-grade hardwoods. Then, we assemble our pieces with mortise-and-tenon joinery. This time-tested method of furniture assembly dates back to ancient China, and over centuries, has been thoroughly vetted as the only high-quality way to make shutters. Chances are good our competition is using nails or glue to assemble their shutters.
Here's another way Estate Millwork stands out from the competition: We go green. In recognition of limited natural resources, we only work with timber supply companies who practice sustainable harvesting techniques. We also closely monitor plant temperatures, and actually recycle wood scraps for fuel or for other projects. The other perk of us going green? Less waste means a better value for you.
Are you interested in Wooden Bahama Shutters? If so check out our Bahama Shutter Designer where you can build, price, and purchase new custom Bahama shutters for your home.
Build your new Custom Bahama Shutters and get a Free Instant Quote Today
Our state of the art designers allow you to design and build completely customized Bahama Shutters to fit your exact needs.
Questions or concerns contact us here or via 412.641.0177 .
Build an Instant Quote
Get Started Designing Your New Hurricane Shutters Today!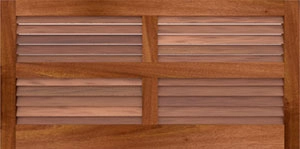 Governor Bahama Shutter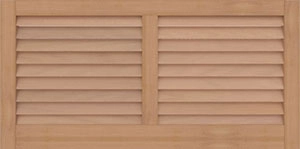 Saint George Bahama Shutter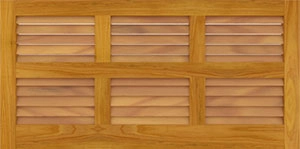 Kingston Bahama Shutter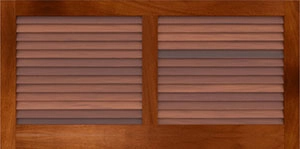 Island Breeze Bahama Shutter
Check Out Our Line of Bahama Shutters
Recently Published