Interior Doors You'll Love in Your Home
Published: July 08, 2021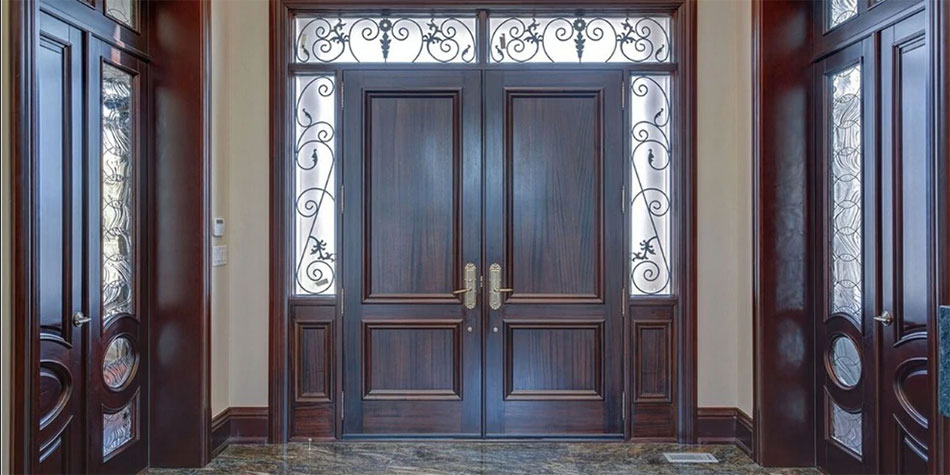 When it comes to replacing those outdated interior doors in your home it you may be enticed to use those hollow core doors from your local big box store, but take it from us nothing beats a solid wood door. Solid wood doors are naturally heavier, sturdier and can accept more abuse from your daily routine. While in general solid wood doors are the most expensive option they are also the most aesthetically pleasing of the door options. Not only do solid wood interior doors look good but they offer superior thermal and noise insulation compared to their counterparts.
Which Wood is Best?
When it comes to choosing a wood species for you new interior doors some woods are better than others. First and foremost you want to choose the wood specie that will best complement your interior design choices. Some of the most popular woods used for interior doors are Mahogany, White Oak, Poplar and Cherry; each of these woods has their own unique qualities.
Mahogany
Mahogany is the most popular solid interior wood doors available. With its beautiful grains and long-lasting durability, solid mahogany interior doors are a perfect combination of design and practicality. Many homeowners choose solid mahogany interior doors because they combine beauty and affordability. Mahogany doors also tend to stain easily, which makes them a simple addition to any home or business.
Poplar
Poplar is an incredibly cost-effective choice for solid wood doors, however it does not offer the same distinctive grain as other woods. Poplar interior doors are a strong medium-density wood door, making them suitable sound and heat insulators. Poplar responds can be both stained and painted, though any dark streaks in the grain may respond differently to stain than the rest of the wood. Poplar wood ranges from a greenish yellow to a very light white.
White Oak
Solid white oak interior doors offer both function and style for interior home design. White oak is highly resistant to water damage and cracking, making it a durable solution for doors for children's rooms, recreation rooms and bathrooms. The grain of white oak doors is symmetrical and pronounced without any significant knotting, which makes white oak suitable for both staining and painting. White oak varieties offer color ranging from pale yellow to rich brown.
Cherry
Cherry wood has a beautiful wavy grain that makes it a very a desirable choice for more decorative interior doors. Though cherry is considered a medium-strength wood, it is also resistant to damage and warping. Over time, cherry wood will change color as it's exposed to light, though typically interior doors are better protected against light exposure than exterior doors. Cherry absorbs stains well and can be stained to a range of finish from a clear natural finish to a deep red finish.
Picking the Right Interior Door
Standard Doors
These are the most commonly seen doors in homes, the standard door is hung on hinges and swings either out or in to open and close. Standard doors come in many different styles whether it is a louvered door that will allow air to freely pass through when closed while still maintaining visual privacy. Another option are panel doors, whether you are looking at flat or raised panel both options work well as standard swinging doors.
Bifold Doors
Bifold doors are doors that are more narrow panels that are hinged together and mounted to and slide along a track. These doors are more commonly seen in areas such as closets, laundry rooms and pantries.
Sliding Barn Doors
The sliding barn door is becoming more and more popular in today's homes, these doors slide along the wall on a track that is mounted to the wall above the door opening. You can use virtually any door style in these situations making the design possibilities almost endless.
Pocket Doors
The pocket door is a classic style of door is making a comeback in modern homes. These interior doors are similar to the sliding barn doors with the exception that these doors slide into the wall instead of along the outside of the wall. The biggest benefit of pocket doors is that they slide completely out the way and out of sight. Pocket doors are great for small spaces where space is at a premium.
Build your new Custom Louvered Doors and get a Free Instant Quote Today
Our state of the art designers allow you to design and build completely customized Louvered Doors to fit your exact needs.
Questions or concerns contact us here or via 412.489.9148 .
Build an Instant Quote
Get Started Designing Your New Solid Wood Doors Today!

Custom Doors

Flat Panel Doors

Raised Panel Doors
Check Out Our Line of Louvered Doors

Recently Published
The Appeal And Benefits Of Wooden Front Doors
Published: October 15, 2021
Choosing Your Interior Door Style
Published: September 29, 2021
Why Are Outdoor Wooden Shutters So Popular
Published: September 15, 2021
Choosing The Best Wood For Your Exterior Front Door
Published: September 03, 2021
Custom Wood Doors -- Notes On Quality
Published: August 26, 2021
Different Types Of Closet Doors
Published: August 20, 2021
Choosing The Best Exterior Shutter Color
Published: August 13, 2021
A Double Entry Door Or A Single Entry Door? That Is The Question
Published: August 04, 2021
Why Exterior Shutters Are Important To Your Home
Published: July 27, 2021
Interior Doors You'Ll Love In Your Home
Published: July 08, 2021