Incorporating Wooden Doors into Your Home
Published: August 29, 2022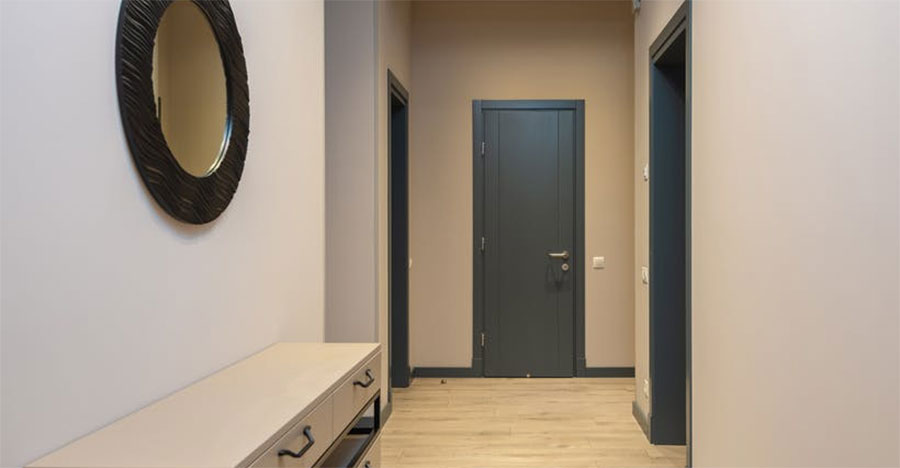 Ways to Incorporate Wooden Doors into a Room
More and more people are recognizing the benefits of using naturally beautiful wood in their homes.
Not only do wood doors look good, but they can also have physical and emotional benefits for you and your family.
If you're not convinced yet, here are three great reasons why you should use wooden doors in your home.
Reason #1: They are cost effective
You might be surprised by how much cheaper solid wood windows and doors can be compared to plastic versions. Also, check out how fast you can install them-it just makes sense.
Reason #2: They are durable
Using real hardwood is what made such a difference for us. The finish really helps protect against leaks, cracks, and all kinds of damage from pollution, insects, and years of wear.
Reason #3: They are timeless
Wooden doors have been around for hundreds of years and will continue to be around for hundreds of more years.
Painting a Wooden Door
There are many different techniques for painting exterior wood door, with several options for each feature of your home. One of the most common is called "bleaching" or "white washing." This technique leaves you with a bright white color that always looks fresh. It can hide minor flaws in the wooden doors very well.
However, over time, this method can begin to bring out any imperfections in the grain pattern or shade variation of the door. Also, depending on which angle you watch it, you may notice colors fade or change slightly.
Another common technique is called brush staining. In this case, you use specialty brushes and stain to bleach the wood. You can get some amazing results, but it takes a while — usually multiple coats or sessions.
This is also somewhat time-consuming. However, once it's done, it'll look great for years to come.
The third option here is dry cleaning. Here, you spray water onto the door to quickly clean away all traces of dirt and dust. Then you use a tool named a brush cleaner to go into the pores of the wood to remove small contaminants.
Once again, this will take more effort than applying bleaching gel or wetting a cloth, but the end result is faster cleanup and longer lifespan.
Cleaning your Wood Doors
Weathering is an important element of antique or salvaged wood windows and doors, but it can be tricky to see exactly what you're doing and have the best results.
There are many ways to clean old woods, including how you go about opening them up (taking out paint) and what chemicals you use.
Today we'll focus on three simple things you can do to improve the look of your wooden house entries by making their surface smooth again. We'll use sandpaper in several different grits to make our door smoother.
You can also try rubbing it down with steel wool to remove any deep rust and/or wax-based sealants that may have been applied years ago. Both actions will bring out the natural beauty of the door's original finish.
Finally, since dirt and other small particles can really set into wooden surfaces inside walls and doors, before applying any filler, put some glass powder into the holes and openings. You'll then blow dry the door or let it air dry, which removes the extra moisture from the hole/opening and prevents further damaging such as mold growth.
Choosing Wooden Doors
Many people view wood as more of a building material than a decorative item. However, oak is one of the most popular woods used in modern homes.
Although it's often considered too sturdy or serious, handmade oak can be an excellent choice if you want a truly beautiful look without breaking the budget.
A few coats of wax and this already rugged material can hold its own against any other surface. Whether you decide to use pine, cedar, redwood, or another type of oak, these materials are very affordable.
You also have several options when it comes to treating your oak surfaces. A simple way to clean dust and dirt off the surface is with water. You can wet a soft cloth and scrub the surface to get rid of particles before applying a final coating of oil.
Another option is to apply vinyl decals to the surface. You can either buy pre-made designs or create your own. When applied properly, they can blend in easily with the surrounding finish.
If you need help choosing a design or perfecting your application, consult a master painter from the community. He or she will know how to protect the edge of the leaf shape or make sure that the words are easily read at different distances.
Keeping Wooden Doors Sealed
Most timber door frames are built for plain, unsealed wood panels. However, if you find that your doorway is weathered or has some damaged areas, then there are several things you can do to prevent further erosion of its appearance and integrity.
First, you can use no more than one color of paint on each surface of the frame. Second, you can apply an oil stain over the entire thing to make it less obvious.
Finally, you can also install corner brackets and transoms to provide greater shielding from the elements.
All these things will help you maintain the look you've been working hard to achieve.
How to keep out dust and moisture
A louvre is a fixed window opening in which only part of the window opens up like a slot or notch. This reduces glare but makes it more difficult to see outside. More modern variants have adjustable louvres, called venetians, that open gradually like raking sunlight.
The traditional way to achieve this was with moving parts (a crank or handle). However, people eventually solved this by using sliding panels made of plastic or wood. The first patent for such a panel was by Wilhelm Schmidt from Germany who invented his partition doors in 1885.
These were very expensive at the time but became popular in the 20th century when many other inventions reduced the cost of housing including the water cooler, ventilator systems, and the air conditioner.
Another advantage of these types of windows is that they can be made larger than ordinarily possible without increasing the size of the doorway. Another benefit is their insulation value; large single-panel structures reduce convection heat loss through the floor but not the ceiling. By having an additional layer of glass above the opening, along with careful design elements, energy savings are achieved.
Build your new Custom Louvered Doors and get a Free Instant Quote Today
Our state of the art designers allow you to design and build completely customized Louvered Doors to fit your exact needs.
Questions or concerns contact us here or via 412.641.0177 .
Build an Instant Quote
Get Started Designing Your New Solid Wood Doors Today!

Custom Doors

Barn Doors

Raised Panel Doors
Check Out Our Line of Louvered Doors

Recently Published
5 Reasons To Upgrade Your Home With Wooden Shutters
Published: September 30, 2022
The Benefits Of Sliding Barn Doors: How To Make The Most Out Of Your Home
Published: September 19, 2022
Hardwood Lumber Sizes And Buying Guides
Published: September 12, 2022
Replacing Cabinet Doors: A Simple, Cost-Effective Solution
Published: September 07, 2022
Incorporating Wooden Doors Into Your Home
Published: August 29, 2022
9 Reasons To Invest In Exterior Wood Shutters For Your Home
Published: August 24, 2022
Lumber Buying Tips: What To Look For When Buying Hardwood Lumber
Published: August 17, 2022
Are Louvered Doors Outdated
Published: August 15, 2022
Are PVC Shutters The Same As Vinyl
Published: August 11, 2022
How To Find The Right Wooden Door For Your Home
Published: August 04, 2022