How to Select the Right Exterior Shutters
Published: June 25, 2020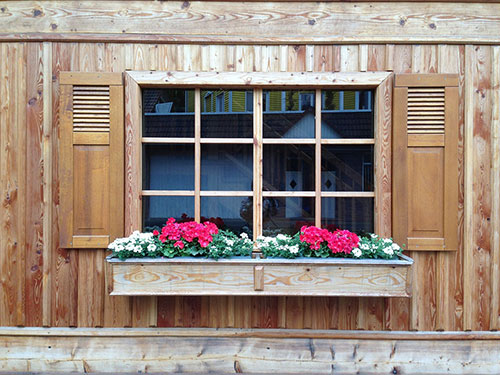 There are many different types of exterior shutters and many decisions must be made when choosing your wooden shutters. One of the most important decisions that you will make is determining which material your wood shutters will be fabricated from. Shutters can be made from natural materials such as wood or synthetic materials such as vinyl. You must also decide which style and color will best suit the exterior of your home. You will have to find a manufacturer that makes exterior shutters that fit your windows, or opt for custom built shutters. Quality shutters will also come with a selection of fixtures, and if they are wood, stains and finishes to choose from. It is important that these decisions are made wisely. Below we will examine different shutter material types and the pros and cons of each and explain how to find the shutters that will best suit your needs.
Exterior Shutter Materials
Exterior shutters come in two basic categories; real wood shutters and vinyl or synthetic shutters, which are usually made from various types of plastics. It is important to take in to consideration not just the initial price of your shutters, but also the lifespan of the shutters and easily noticeable differences between vinyl shutters and wood shutters.
Exterior Shutter Quality
Vinyl Shutters
Vinyl exterior shutters are the least expensive of all shutters, but there is definitely a reason why they are so inexpensive. Vinyl shutters are made from less durable materials (as compared to wood exterior shutters) that not only deteriorate more rapidly, but are also more easily damaged. Vinyl shutters tend to fade, crack, and dent quite easily. They have a low lifespan and will have to be replaced often. Additionally, there are not as highly customizable as some wood shutter options. They tend to only be available in a handful of colors and usually cannot be painted or stained. The low level of customization can also be problematic if you need shutters in a less common size. Usually, the shutters are sized on one to two inch increments that do not sit flush with many windows. Their thin, more conductive materials also reduce energy efficiency. Increased energy expenses and the frequency in which the shutters need to be replaced usually end up costing more than the total cost of installing real wood exterior shutters.
Shutter Lifespan: low (5 to 10 years)
Shutter Color Options: minimal
Price: inexpensive
Durability (exterior installation): low
Customization Level: low
Energy Efficiency: low
Overall Value: low
Pre-Fabricated Wood Shutters
Pre-fabricated and composite wood exterior shutters provide a moderate level of value and quality. Shutters that are made from real wood are more energy efficient and durable than vinyl exterior shutters. If cared for properly, these shutters will last for 10 to 20 years and can be painted or stained to your tastes at home, even if the manufacturer doesn't offer custom paints and stains. However, there are still some faults with these types of exterior shutters. They are not made from solid matching wood stocks, which presents several problems. Many of the shutters are actually milled hollow, and filled with less expensive filler materials. This can cause the shutters to be less energy efficient and also lowers the lifespan of the shutters. Additionally the lack of matching wood stocks means that your wood grains may not match from component to component on the shutters. Prefabricated exterior shutters are difficult to identify when looking in a catalog or browsing a web site, and manufacturers certainly will not advertize that they have cut corners in the fabrication of their product, so you must exercise extreme caution when selecting your wood shutters.
Shutter Lifespan: medium (10 - 20 years when properly cared for)
Shutter Color Options: medium (some paints and stains available)
Price: medium - high
Durability (exterior installation): medium
Customization Level: low to high (dependent upon manufacturer)
Energy Efficiency: medium
Overall Shutter Value: medium
Estate Millwork's Industry Leading Whole Cut, Solid Wood Shutters
Estate Millwork's whole cut exterior wood shutters provide superior durability and energy efficiency due to the fact that they are milled from hand selected whole stock pieces of FAS premium grade solid woods. This also ensures that all of the grains will match. All of the wood for a shutter will be coming from the same tree, with the exact same grain. The customization options are much more varied as well. We provide full customization, from custom size to panel style. You can use our custom shutter designer to fully customize your exterior shutters or we can even customize shutters from your original sketches. If this is too much customization, we have many predesigned shutters that will compliment your home perfectly. We also offer exact color matching to ensure that your shutters provide the perfect accent to your home or office. Our overall value is far superior as well. Our prices are comparable to that of pre-fabricated exterior shutters.
Shutter Lifespan: high (20 + years when properly cared for)
Shutter Color Options: high (full color matching and custom staining)
Price: medium
Durability (exterior installation): high
Customization Level: high
Energy Efficiency: high
Overall Shutter Value: high
Build your new Custom Louvered Shutters and get a Free Instant Quote Today
Our state of the art designers allow you to design and build completely customized Louvered Shutters to fit your exact needs.
Questions or concerns contact us here or via 412.641.0177 .
Build an Instant Quote
Check Out Our Line of Louvered Shutters

Recently Published
Longing For A Warm And Cozy Home? Try Home Decorating With Barn Doors
Published: May 26, 2023
The Wooden Flat Panel Doors That You Can Use For Exterior Purpose
Published: May 11, 2023
What Louvered Shutters Can Do For You
Published: May 02, 2023
French Doors Improve The Ambiance Of A Home
Published: April 18, 2023
Choosing Raised Panel Doors For Better Home Value
Published: April 07, 2023
What Are Louvered Doors And Why Are They So Popular?
Published: March 27, 2023
7 Reasons You Will LOVE Pocket Doors
Published: March 22, 2023
Bahama Shutters - The Best Way To Your Dream Windows
Published: March 15, 2023
Custom Raised Panel Shutters That Will Last A Lifetime
Published: March 13, 2023
How Custom Wood Doors Can Improve The Look Of Your Home
Published: March 10, 2023