French Patio Doors: Bringing the Beautiful Summer Weather Indoors
Published: April 04, 2022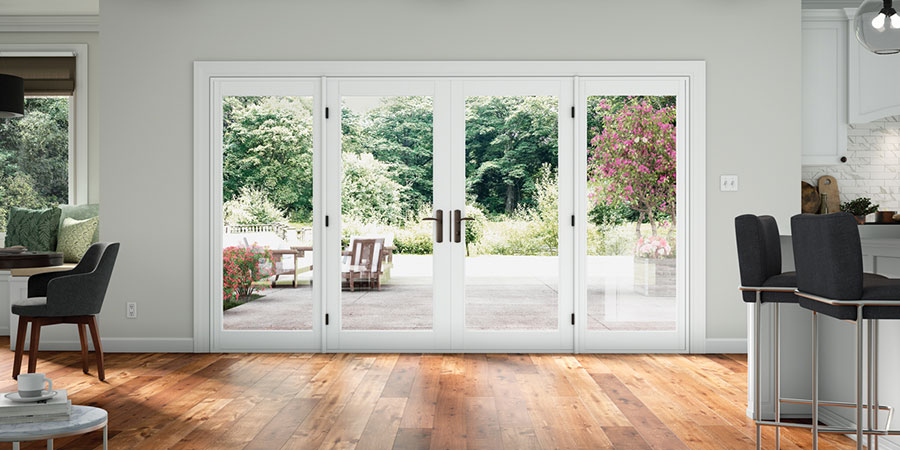 Are you looking for unique yet classic doors for your patio? When it comes to interior/exterior patio doors wooden French doors are a great option here as they not only provide you with the most creative option for this space but also allow the beautiful exterior views and sunlight in.
Choosing and Installing
The most important piece of choosing and installing French doors is whether they will swing outwards onto the patio or inwards into your home, and most importantly is there space in the swing direction for the doors to open. Compared to sliding doors or even a single standard door. French doors require considerably more space to open, to figure out how much space a set of French doors will require after installation, simply measure the door width and create a layout radius the door will take when opening. Keep this radius in mind when choosing your new doors tomake sure there won't be any furniture in the way of the doors preventing them from fully functioning.
Benefits of French Doors
Wooden French doors are a great choice to boost the beauty of your home, Estate Millwork offers French doors in several different designs and wood types. Our French doors are fully customizable from style, size, to wood species and finish among other things, making each door truly unique to you and your home. Adding French doors to your patio entrance will improve ease of access between your home and patio with two lane movement versus single lane you would get from other door types. French patio doors will really open your home up to your patio and the outdoors with sunlight and spectacular views that only french doors can bring to you and your home.
Build your new Custom French Doors and get a Free Instant Quote Today
Our state of the art designers allow you to design and build completely customized French Doors to fit your exact needs.
Questions or concerns contact us here or via 412.641.0177 .
Build an Instant Quote
Get Started Designing Your New Solid Wood Doors Today!

Custom Doors

Flat Panel Doors

Mission Doors
Check Out Our Line of French Doors

Recently Published
Beautiful Shutters For Your Traditional American Cape Cod Home
Published: May 18, 2022
Solid Hardwood Cabinet Doors In And Outside Your Home
Published: April 18, 2022
What Makes Wooden Exterior Shutters Superior
Published: April 11, 2022
French Patio Doors: Bringing The Beautiful Summer Weather Indoors
Published: April 04, 2022
Louvered Doors For A More Comfortable Enjoyable Summer
Published: March 25, 2022
Achieve That Rustic Look With Custom Wooden Shutters
Published: March 10, 2022
Interior Doors You'Ll Love
Published: March 07, 2022
Why Choose Wooden Exterior Doors
Published: January 28, 2022
Why Teak Boat Doors?
Published: January 07, 2022
Using Sliding Barn Doors In Your Home
Published: December 23, 2021