Finding the Right House Shutters
Published: July 30, 2020
Houses are meant to have shutters on the windows and they look best when the shutters are well maintained or replaced if they are damaged or missing. Shutters are a key visual component to the overall aesthetics of the exterior of your home and can also provide protection from the weather and prying eyes.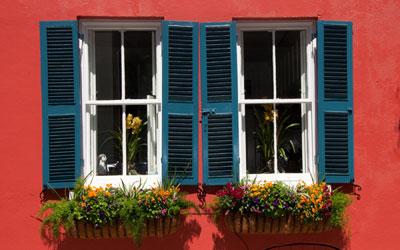 Vintage homes deserve real wood shutters with raised or flat panel, louvers or a combination of louvers and panels. Louvered shutters are the most common style of exterior home shutters but there are several other options such as paneled, Bahama / Bermuda, Board & Batten, and Combination shutters. Louvered shutters are composed of horizontal slats that are held in place by stiles and rails and help control light, overall privacy, and air flow. We feel that the best wooden shutters are built using mortise and tenon joinery which is why we handcraft our shutters using this joining method.
Other types of shutters such as board and batten are comprised of vertical planks that are held in place by using cross members. A variation of the louvered shutter is the Bahama / Bermuda shutter which is a full length louvered shutter that is hinged at the top and swings out from the bottom. Bahama shutters are extremely popular in tropical areas where they come in handy during the hot summer months and hurricane season.
Paneled shutters can contain raised panels or flat shaker style panels, and because these types of shutters can contain more than one panel home owners have the option of replacing one of the panels with a section of louvers to create a combination style shutter.
Choosing a Shutter Style
Choose a shutter that fits your home's architectural style and your region. If your home doesn't already have existing exterior shutters or you don't like the current style you can take a drive around your neighborhood and see what types of shutters are on homes similar to yours. Generally, raised or flat-panel shutters work well on European, Colonial, and Federal exteriors; Board and Batten shutters for cabins, farmhouses, Tudors, cottages; Bermuda / Bahama shutters for tropical coastal homes; and louvered and combination shutters for most any home style.
Whichever style you choose know that shutters should be readily seen and stand out against your home's exterior. Think dark shutters on a light colored home, when choosing a color you should tie into at least one other color or element on your home whether it's the front door, roof, or front porch.
Visit our shutter designer to design and price new wooden exterior house shutters.
Build your new Custom Louvered Shutters and get a Free Instant Quote Today
Our state of the art designers allow you to design and build completely customized Louvered Shutters to fit your exact needs.
Questions or concerns contact us here or via 412.641.0177 .
Build an Instant Quote
Check Out Our Line of Louvered Shutters
Recently Published