Beyond Preference: Finding the Right Exterior Shutters for Your Home's Architecture
Published: March 25, 2020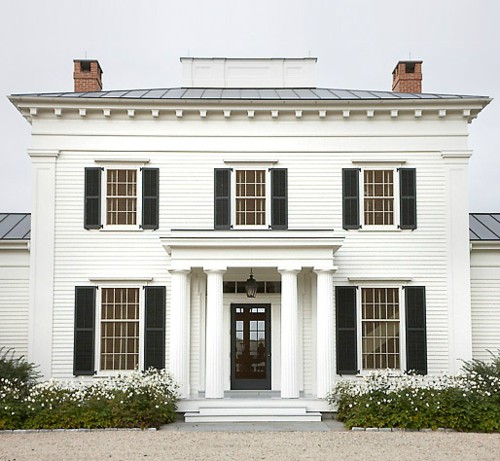 When you consider what style of exterior shutter to purchase for your home, there really is just one Golden Rule: What kind of shutter do you prefer? You can never go wrong choosing a shutter that you're happy to see when you pull into your driveway.
However, if you want to pick your shutter based on the architectural style of your home, then a little knowledge of how the various types of shutters serve those styles will help.
Weather or Not
Remember, a Shutter is more than just decoration. It was originally intended to protect a window during bad weather and to control or regulate air flow. The style of shutter, then, was chosen with those uses in mind as shaped by one powerful factor in the build of the house: What is the local weather like?
For many climates, the louvered shutter was the best and most obvious choice. On a shutter with functional louvers, the amount of airflow desired could be controlled more precisely, but a fixed louver shutter could also do the job and require less attention. At the same time, louvered shutters provided limited protection from the elements and cooler weather.
In warm and humid tropical climates, the Bermuda or Bahama shutters was the more desirable choice, controlling airflow, but more specifically shading the window from the intense light of the sun.
In colder climates with harsher weather, the paneled shutter was more useful. Protecting the window from the elements was the primary concern for these shutters, so a simpler, sturdier design was called for. Given that simple utility is good, and that utility and style were better, additional panels could be added, known as raised panels, for greater strength and style. And here we should mention the board and batten style of shutter as well. Simple and strong, it served much the same purpose as the paneled shutters, but with a construction technique that lends it a rustic feel.
Of course, few places are persistently hot or cold. Mixing shutter styles on the same house served very practical needs. The lower floors often had paneled or Board and Batten shutters for protection from weather and security, while the warmer upper floors would use louvered shutters for air flow. The reverse, paneled shutters on the upper floors, and louvers on the lower, is not often seen, but local situations or style might call for it.
In some regions it was popular to combine the two ideals of protection and air flow in the same shutter. A combination style, with one section of the shutter having louvers, and the other panels, could theoretically offer the best of both worlds. This was particularly popular for homes in more temperate weather zones where both hot and cold weather are present, but neither too severe. The combination shutter could theoretically work on most any style of home, since it's style is so diverse and flexible.
Architectural Cues
If you consider architectural styles were originally associated with specific regions and weather, it's easy to take a guess at the style of shutter that might be most associated with that architecture.
For example, Colonial, American Four Square, Federal, or Victorian style homes usually go for paneled shutters, with the more elaborate Victorian or Federal buildings using Raised Panel shutters to great effect. Louvered shutters on upper floors were not uncommon, but typically depended on what the weather was like.
Because louvered shutters are versatile, they have the advantage of looking good on pretty much any architectural style. Louvered shutters are not uncommon on the exteriors of everything from ranch home to bungalows, and even the classic Louisiana Shotgun.
Again, it should be noted that shutter style mostly depends on the weather and personal taste. However, certain architecture seem to demand a specific style. For example, a Spanish Colonial just would not look right without louvered shutters. And a Conch cottage in Key West doesn't deserve the name without Bermuda shutters.
Board and Batten looks quite good on Southwestern Stucco homes, where the simplicity of that shutter design works well with homes designed for dry,hot weather. They also have an 'old world' charm to them, so they work well with Mediterranean-style homes or French Colonials. They tend to look good on converted barns too.
Most Importantly
The above guidelines for weather and history are intended to help you make an educated decision when choosing a shutter style. Weather is an important factor when choosing functional shutters, and historical precedent - often based on weather and available materials - can be useful when trying to make a decision.
At the end of day, don't overlook the single most important factor in choosing a shutter style: It's your house! You have to love it, so choose a style that you want to come home to each day.
See a full collection of our styles in our shutter catalog or order your preferred style today.
Build your new Custom Louvered Shutters and get a Free Instant Quote Today
Our state of the art designers allow you to design and build completely customized Louvered Shutters to fit your exact needs.
Questions or concerns contact us here or via 412.641.0177 .
Build an Instant Quote
Check Out Our Line of Louvered Shutters
Recently Published