Exterior Shutters with Elegant 18th Centrury Craftsmanship
Published: May 22, 2020
"The lyf so short, the craft so long to lerne."
Estate Millwork uses traditional joinery methods to manufacture elegant wooden shutters and louvered wooden doors, much of them unchanged since the heyday of woodcraft and furniture making, the 18th century. All of our products are hand assembled, and hand finished and our bench work is accomplished in such a way as the result is indistinguishable from the finest craftsmanship produced in the old ways. At our mill, we still employ the apprentice system to bring on our young and energetic woodworkers under the guidance and tutelage of stern old masters, some with more than a half century of experience. Our masters in turn were taught by masters, many of whom practiced their craft in the late nineteenth century. Only a few generations more connect us to this most prolific period of craftsmanship and design.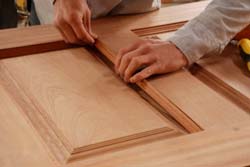 Here are ten points of quality that we
stress, in all of our products.
Good "stuff", straight and true. Our products are built from the finest hand selected hardwoods. We use only the top grades from the best suppliers, and we take care to preserve the moisture content of the wood, and to relieve internal stresses as we mill our products. We do not use finger jointed materials, or scrap or common grades. For instance, our wood shutters are made from "Spanish Cedar", a fine hardwood, which we dry to 6% moisture content for stability. Other companies use "Western Red Cedar", a soft wood like pine, at 15% moisture content (more than twice as wet). Yes, the cheaper cedar is about half the price, but the quality, heft and strength are not there as they are with a hardwood.
All rough and finish milling done in house. Other companies may "outsource" these operations, or buy their lumber in pre-dimensioned and pre-machined sizes. Our mill refuses to do this because we require the ability to hand select stock, and to supervise the machining at all levels. We do not even begin milling stock until we have an order, which guarantees that the products are built with lumber specifically and expertly selected for the application.
No nonsense Joinery. We construct our products using true double pegged blind mortise and tenon joinery. This is a very difficult and expensive type of construction, but it is superior to all others for strength and longevity. Of course we use this strong joint for all of our doors, but we also use it for shutters and select cabinetry. Dowels and screws may be cheaper, but they would not be tolerated in the shops of the old masters, and they are not tolerated in our mill.
Panel Fabrication. Again, other companies may chose to "outsource" this function, but we hand select all boards for panels, and go to the extra trouble of machining a specialized glue joint before hand clamping the panels. Other "modern" shops often forego the machined glue joint for a butt joint, or brag about "gluing off the saw", but the time they save comes out of the quality and strength of the panel.
The right tool for the job. Not every job is best done by hand. That is why we have invested in very specialized machinery that in some cases can do a much better job than handwork, faster and cheaper. For instance, because our tenon design comes right out of 18th century joinery books, we could not find a machine to make tenons the way they should be made. So we built it. Our doors have double-tongued tenons, with a feather tongue in between. We even use this expensive, ultra strong joint, on larger shutters.
Not every job can be done with a tool. We do not design our products "to the machine", but "to the hand". Fine detail work, carving and fitting cannot be done by machine. Many manufacturers have modified their product designs, removing details and subtleties because they could not be produced en mass, automatically. If we have a design that can not be done with machine, we don't change the design, we do it by hand.
Hand Assembly, Hand Clamping. All of our products are hand assembled by master craftsmen, at the bench. We hand clamp even though it is slower than pneumatic or hydraulic clamping, because the craftsman can feel the pressures and adjust them to get the tightest possible joints without distorting the wood.
Hand Finishing. Our flatwork is machine sanded in large belt sanders, but the finishing touch is still done by hand and eye in our finishing department. Natural light, rags, scraps of sand paper, fine chisels, brushes, and lots of elbow grease abound.
100 % Made in USA. To us, this is important. To keep the jobs here, to keep the factory here, to keep the quality here.
Pride. Our craftsmen take pride in their work. It is very fulfilling to produce elegant, custom and highly personalized wooden doors and exterior shutters for people with such visual appeal. We know that our products will outlast us, and that we are part of a very long tradition that will be passed down to generations to come just as they were given to us, one lesson at a time.
*"stuff" is an old woodworkers term for wood, of any sort.
Build your new Custom Louvered Shutters and get a Free Instant Quote Today
Our state of the art designers allow you to design and build completely customized Louvered Shutters to fit your exact needs.
Questions or concerns contact us here or via 412.641.0177 .
Build an Instant Quote
Get Started Designing Your New Wooden Shutters Today!

Combination Shutters

Board & Batten Shutters

Flat Panel Shutters
Check Out Our Line of Louvered Shutters

Recently Published
Bahama Shutters - The Best Way To Your Dream Windows
Published: March 15, 2023
Custom Raised Panel Shutters That Will Last A Lifetime
Published: March 13, 2023
How Custom Wood Doors Can Improve The Look Of Your Home
Published: March 10, 2023
Sliding Barn Door Ideas That Will Blow Your Mind
Published: March 03, 2023
Choosing A New Style For Our Home: Board And Batten Shutters?
Published: February 16, 2023
5 Things To Consider When Choosing Hardwood Lumber
Published: February 08, 2023
Your Guide To Choosing, Installing, And Maintaining Flat Panel Shutters
Published: January 30, 2023
Custom Wood Shutters - A Unique, Durable Alternative To Aluminum
Published: January 27, 2023
Wooden Customized Replacement Cabinet Doors: The Best Way To Update Your Cabinets
Published: January 23, 2023
Wood Shutters: A Stepping Stone From The Past
Published: January 17, 2023