Enhance your Home with Wood Shutters
Published: July 01, 2022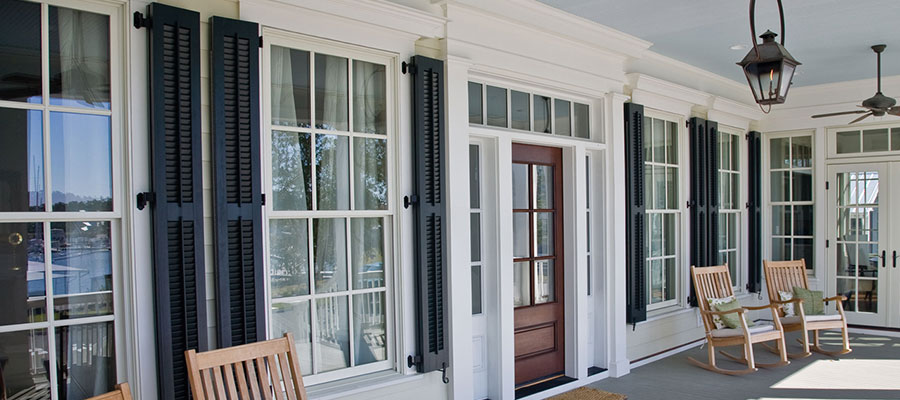 Throughout the country exterior wood shutters enhance the beauty and performance of both traditional and modern homes. Adding shutters instantly adds depth, texture, and contrast of color to the visual landscape. With the addition of hinges and hardware, our premium wood shutters can swing open or closed to help control sunlight, regulate airflow and manage privacy within your home.
Spanish Cedar Wood Shutters
The most commonly used and recognizable wood species used in exterior construction is Cedar. Spanish Cedar ranges from a light brown to a pinkish/red brown and is an aromatic species with a condensed grain containing few knots and is naturally resistant to both rot and insects. At Estate Millwork we use what is referred to as Spanish Cedar, while this is not a true cedar it still maintains the same properties as typical cedar woods.
Cypress Wood Shutters
While cedar shutters are probably the most common among homeowners, there are many homeowners choosing cypress shutters today.Cypress has been used for exterior applications in the southern United States for many years. Like cedar cypress has similar protective qualities against bugs and decay.
Mahogany Wood Shutters
The compact warm reddish-brown grain of Genuine Mahogany creates a strong, sturdy and moisture resistant exterior wood shutter. For hundreds of years Mahogany has been viewed as a hallmark of fine woodwork and more recently has become popular as an exterior wood choice. Sapele Mahogany is denser and nearly twice as hard than Genuine Mahogany and not all of the Mahogany labeled species behave as well and they vary dramatically in density, color, and stability. However, the comparison to Mahogany as an outstanding exterior grade wood that has rich reddish-brown heartwood holds true. Sapele is most often used as a window and door material because it is so stable and almost completely rot and weather resistant. The grain and pore structure is tighter than Genuine Mahogany making Sapele a great option for painting. Sapele Mahogany is definitely the cream of the crop when it comes to African Mahogany like hardwoods. Most shutters manufacturers use Sapele (Mahogany) we at Estate Millwork offer both options.
Build your new Custom Louvered Shutters and get a Free Instant Quote Today
Our state of the art designers allow you to design and build completely customized Louvered Shutters to fit your exact needs.
Questions or concerns contact us here or via 412.641.0177 .
Build an Instant Quote
Get Started Designing Your New Wooden Shutters Today!

Combination Shutters

Arched Shutters

Flat Panel Shutters
Check Out Our Line of Louvered Shutters

Recently Published
How To Find The Right Wooden Door For Your Home
Published: August 04, 2022
Exterior Wood Shutters And Doors Crafted With Minimal Environmental Impact
Published: July 29, 2022
Are Solid Wooden Back Doors Secure
Published: July 25, 2022
Put The Modern Touch On A Classic Sliding Barn Door
Published: July 08, 2022
Enhance Your Home With Wood Shutters
Published: July 01, 2022
Custom Front Doors
Published: June 16, 2022
Outdoor Kitchen Cabinet Doors
Published: June 08, 2022
Elegant Wine Cellar Doors
Published: June 01, 2022
What Makes Wood Doors Superior
Published: May 25, 2022
Beautiful Shutters For Your Traditional American Cape Cod Home
Published: May 18, 2022