Elegant Wine Cellar Doors
Published: June 01, 2022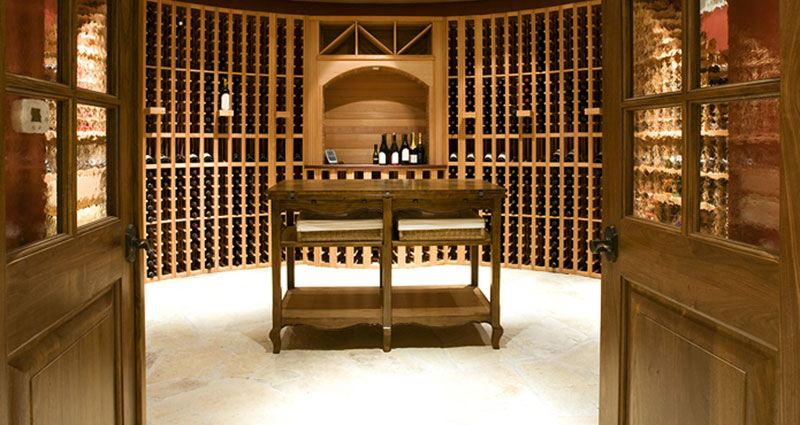 The door to your wine cellar is the first impression of your entire wine storage room. If you love to make a good first impression, then you will want a stylish and unique custom wine cellar doors to grace your wine room. You don't want to end up choosing the wrong wood for your desired custom wine cellar, right? Here are a range of options and questions to consider when you are considering the finish you want to achieve in your wine cellar.
Which Woods are Best in the Wine Cellar
Mahogany
Mahogany is an extremely attractive hardwood, with its uniform color and slight variations it makes an excellent choice when it comes to adding beauty and elegance to your wine cellar. Historically Mahogany furniture has been a sign of wealth and excellence, much of this furniture is still around today and in impeccable condition.
Sapele
Sapele is a Mahogany like hardwood and is sometimes sold as Mahogany, it is a dark reddish brown that gets darker with age. Compared to Mahogany, Sapele is twice as hard as Mahogany and almost completely rot and weather resistant. Sapele is typically used more often for exterior projects like doors and shutters but can also look good inside the home as interior wine cellar doors or cabinet doors in your wine cellar.
Knotty Alder
Naturally Knotty Alder varies from a pale yellow to a reddish brown color and features a variety of different sized knots throughout. Knotty Alder accepts stain well and a lacquer can be added for a glossy finish to create a one of a kind rustic feeling wine cellar.
Black Walnut
Known for its rich color Black Walnut is a well suited choice when it comes to custom wine cellars. Unstained the Walnut color includes varying rich chocolatey brown that can develop a natural sheen over time.
White Oak
There are several different types of Oak wood and more specifically White Oak, this version of Oak is a light to medium brown straight grained wood. Since it is lighter in tone it can make your wine cellar feel bigger and brighter than the other previously mentioned hardwoods.
Custom Wine Cellar Projects
No matter what you are looking for in your wine cellar; Estate Millwork can make it happen, whether it is cabinet doors, entry doors or even something custom. Any questions on anything you see or if you are looking for custom options you aren't seeing please contact us at sales@estatemillwork.com
Build your new Custom Louvered Doors and get a Free Instant Quote Today
Our state of the art designers allow you to design and build completely customized Louvered Doors to fit your exact needs.
Questions or concerns contact us here or via 412.641.0177 .
Build an Instant Quote
Get Started Designing Your New Solid Wood Doors Today!

Barn Doors

Raised Panel Doors

Custom Doors
Check Out Our Line of Louvered Doors

Recently Published
Enhance Your Home With Wood Shutters
Published: July 01, 2022
Custom Front Doors
Published: June 16, 2022
Outdoor Kitchen Cabinet Doors
Published: June 08, 2022
Elegant Wine Cellar Doors
Published: June 01, 2022
What Makes Wood Doors Superior
Published: May 25, 2022
Beautiful Shutters For Your Traditional American Cape Cod Home
Published: May 18, 2022
Solid Hardwood Cabinet Doors In And Outside Your Home
Published: April 18, 2022
What Makes Wooden Exterior Shutters Superior
Published: April 11, 2022
French Patio Doors: Bringing The Beautiful Summer Weather Indoors
Published: April 04, 2022
Louvered Doors For A More Comfortable Enjoyable Summer
Published: March 25, 2022