Different Types of Closet Doors
Published: August 20, 2021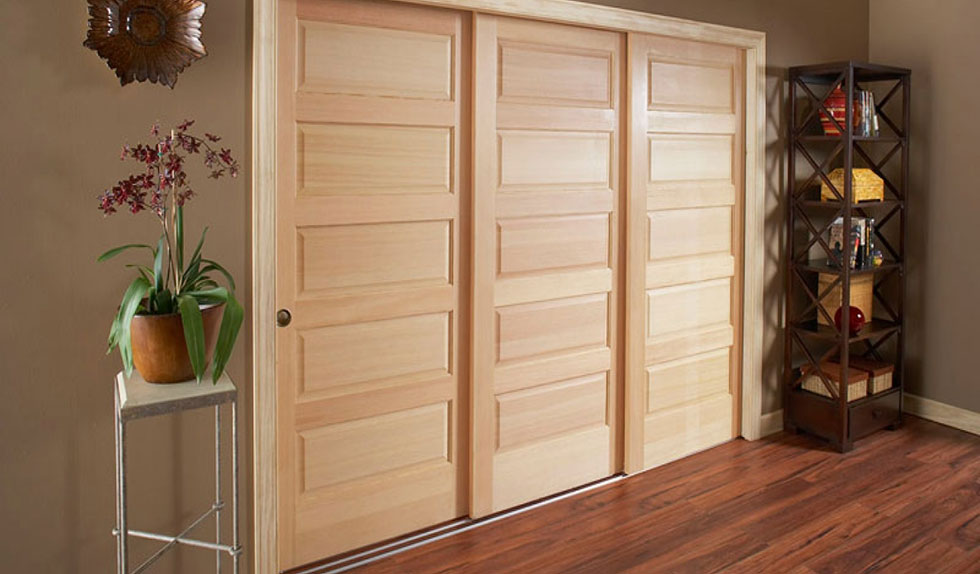 Whether you are doing a complete remodel or are only trying to make a few changes to modernize the look of a room, new doors can change the feeling of a space. New doors can also elevate a room or closets functionality if you choose wisely.
The closet doors you choose will be partially determined by the type of closet you have. A walk-in closet will have different options than your typical reach-in closet will. No matter what type of closet you have, there is a door that will give your room the look you want.
Bifold Closet Doors
One of the more popular closet door options are Bifold doors, while similar to bypass doors in that they slide along a track they are quite different. Bifold doors are constructed of two door panels that are hinged in the middle allowing them to fold together and open to the side of the door frame. Unlike bypass doors, bifold doors allow you to access the entire closet when open, however because they slide along a track they are prone to popping off this track if not installed properly.
Bypass Closet Doors
Bypass doors are simply basic sliding closet doors that were popular in the mid twenty first century and common in homes throughout the 80s. While still frequently used today they are not nearly as popular as other styles of closet doors. Bypass doors are lightweight and because they slide along a track they can save space in small rooms. The downside of bypass doors are that because they do not fully slide out of the way, rather only enough to access one side or a portion of the closet it can become difficult or cumbersome to access things in the middle.
Sliding Barn Doors
One the most popular door styles these data is the sliding barn door. With the rustic farmhouse look becoming overwhelmingly popular over the last several years it is no wonder that this door style has found its way into all different types of décor. While some may see barn doors as a more rustic style doors, but these doors can be modernized to a more industrial look by using a more modern doors instead of a more rustic door. A big benefit of sliding barn doors is that not only do they save space but they can be built to fit any size and style of closet.
French Doors
One of the most elegant door styles in the home are French doors, these doors are typically 2 hinged doors that open out to the sides. Since these doors swing outwards they can require a significant amount of clearance in front of the doors so that they can properly swing open.
Standard Closet Doors
You standard swinging standard door is probably the most commonly seen throughout homes. These doors are hinged on one side and swing outwards into the room, you can use almost any door style that will fit your needs and tastes when it comes to standard closet doors. Similar to French doors, a standard hinged door requires space in front of it so that it can swing open and additional space on the hinge side if you want it swing all the way open.
Build your new Custom Louvered Doors and get a Free Instant Quote Today
Our state of the art designers allow you to design and build completely customized Louvered Doors to fit your exact needs.
Questions or concerns contact us here or via 412.641.0177 .
Build an Instant Quote
Get Started Designing Your New Solid Wood Doors Today!

Mission Doors

French Doors

Flat Panel Doors
Check Out Our Line of Louvered Doors

Recently Published
How To Find The Right Wooden Door For Your Home
Published: August 04, 2022
Exterior Wood Shutters And Doors Crafted With Minimal Environmental Impact
Published: July 29, 2022
Are Solid Wooden Back Doors Secure
Published: July 25, 2022
Put The Modern Touch On A Classic Sliding Barn Door
Published: July 08, 2022
Enhance Your Home With Wood Shutters
Published: July 01, 2022
Custom Front Doors
Published: June 16, 2022
Outdoor Kitchen Cabinet Doors
Published: June 08, 2022
Elegant Wine Cellar Doors
Published: June 01, 2022
What Makes Wood Doors Superior
Published: May 25, 2022
Beautiful Shutters For Your Traditional American Cape Cod Home
Published: May 18, 2022