Custom Wooden Shutters and Doors Crafted with 21st Century Technology
Published: May 27, 2020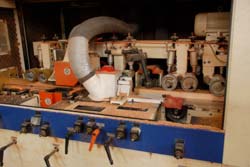 Estate Millwork uses state of the art technology to run our business. Our website is the start of our manufacturing process, and allows us to quickly quote you beautiful custom designed louvered doors or wood shutters, with a minimum of effort on your part or ours. We believe price is an important part of the buying decision, and unlike almost all of our competitors, are glad to share our pricing with our customers, up front. You don't have to request a wooden shutters catalog, dig around on the internet, or speak to a salesperson before getting pricing. Our pricing is one of the first things you will see on our site. We have nothing to conceal.
Although all of our products are hand assembled and hand finished, many of the mundane (and costly if done by hand) operations have been automated. We have more computers and computerized equipment in our plant than employees. Unique software technology helps us to buy and select lumber, minimizing waste and cost. Innovative, one of a kind equipment designed by our own craftsmen is used to keep quality in the products, without increasing costs at our mill.
We do not use technology to make cheaper products, we use technology to make premium quality products at the lowest possible cost. Our products are indistinguishable from those made 300 years ago in terms of the quality of materials, the type of joinery and the care given to craftsmanship. The only modernization that we do is external to the product - we do not use "wood substitutes", cheap veneering over cores, or stamp-out imitation milling, laminating or vacuum forming. Those are space age technologies that have no place in our shop that produces truly hand crafted, elegant hardwood doors and exterior shutters.
Build your new Custom Doors and get a Free Instant Quote Today
Our state of the art designers allow you to design and build completely customized Custom Doors to fit your exact needs.
Questions or concerns contact us here or via 412.641.0177 .
Build an Instant Quote
Get Started Designing Your New Wooden Shutters Today!

Louvered Shutters

Flat Panel Shutters
Check Out Our Line of Custom Doors
Recently Published