Custom Wood Doors -- Notes on Quality
Published: August 26, 2021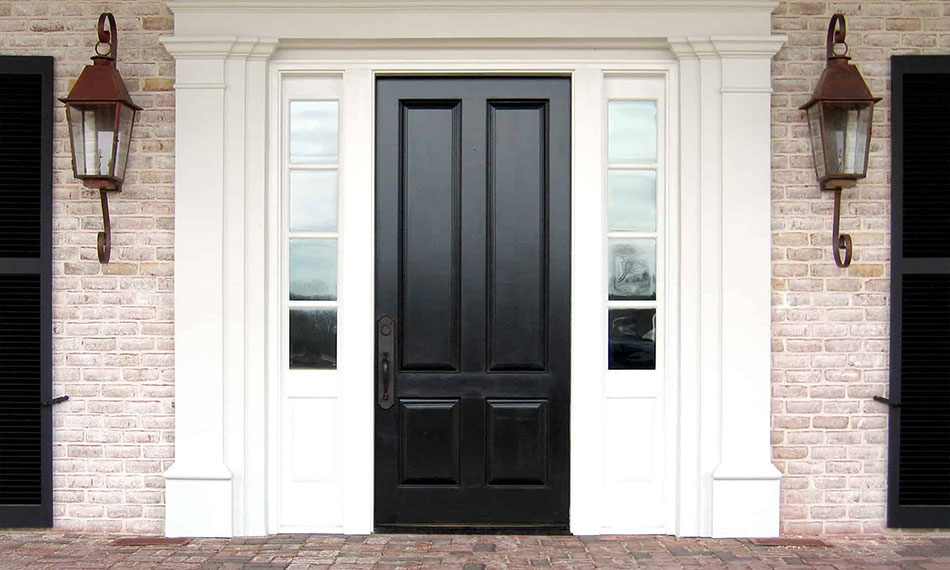 We are often asked how our louvered doors are different. This article attempts to explain why our doors cost only a little bit more, but look so much better and last so much longer. There is a summary table at the bottom of the article for your reference, but we hope the explanations help you to gain a better appreciation of the anatomy of a door.
Estate Grade Custom Doors
Our Estate Grade doors are the best doors that money can buy. These doors are crafted in the exact same way that doors were made 200 years ago, when aesthetics, strength and durability were the controlling factors. Double tounged feathered tenons in all rails bigger than 8", deep pocket blind mortises, splined glue joints in panels, deep profiles and elaborate sticking are all hallmarks of our doors. And these doors are heavy and solid, so they will last and last. They can survive knicks and dings, refinishing, and rough treatment.
None of the easily detectible "cheap" construction methods are used in our doors. The stiles are solid through and through, the grain of the sticking matches the grain of the stile because it is not a separate applied piece. The panels are deeply sculpted and raised - not constrained by the limitations of MDF and vacuum pressing ultra thin veneers over a particle core. When you look at these doors, you can see deeply into the grain, and it makes sense -- there are no splices, overlaps, or odd junctions of grain where veneers meet and attempt to match (but don't really match).
The joinery is ultra strong, and although more expensive than the inferior joinery methods like dowels, or unsightly screws and anchors, Estate Millwork has made long strides in reducing the cost of mortise and tenon joinery through automation. Where other door manufacturers have elected to take the cost out of their products by changing to a cheaper joinery method, we have left the method alone, and taken the cost out with robotics. We know that mortise and tenon joinery is the best because there are doors that are 600 years old and older made with this type of construction. The new fangled doors are at most forty years old, and it is unclear how long they will really last.
Premium Grade Custom Doors
Solid in every respect except the stiles, which are engineered hardwoods (maple, poplar, or same species) with a thick 1/4" veneer, these doors offer many of the benefits of our Estate Grade doors, at a lower price. The panels are still solid and spline jointed, the rails are solid, although the joinery is hardwood dowel, rather than mortise and tenon.
Standard Grade Custom Doors
Estate Millwork does not manufacture doors at this level of quality, but includes the information here for purposes of contrast. No longer are the panels solid, but are veneered MDF, often with a very thin veneer, perhaps 1/128 of an inch. This veneering technique limits the visual appeal of the panels, as well as constrains the type of profile that can be placed on the panel. This type of door should only be used where aesthetics is not a primary concern, and durability is not as essential.
The veneer, in addition to being highly susceptible to scratches and dings, is also too thin to re-finish or even repair. In order to drive the costs down as much as possible on these doors, other manufacturers generally offer them in standard sizes only, with limited or no customizations with respect to profiles, sticking, rail placements or dimensions. These doors are often sold in the box stores are "premium grade", but the poor joinery and the limited visual elegance give them away.
Utility Grade
These doors are the cheapest that money can buy, and the ugliest. In their worst incarnation, they are flush doors with a thin veener just on the front and back faces (edges are not veneered). The cores are mostly hollow, re-inforced with cardboard, or sometimes a low grade foam, particle board. They will not withstand the test of time, are very lightweight and are usually only used in the lowest grades of construction -- budget apartments, basements, low-end residential. Needless to say, Estate Millwork does not offer this type of door.
Grade
Price
Aesthetics
Joinery
Durability
Estate
Solid Wood Stiles, Rails and Panels.
Mortise and Tenon joints.
$800
5/5
5/5
5/5
Premium
Solid Rails and Panels, Veneered Stiles.
Dowel Joinery.
$700
3/5
3/5
3/5
Standard
Solid Rails, Veneered Panels, Engineered Stiles with Composites.
Dowel Joinery.
$400
2/5
2/5
2/5
Utility
Composite Cores, Veneered Panels, Rails and Stiles.
Dowel, Screw or Anchor Joinery.
$100
1/5
1/5
1/5
Build your new Custom Doors and get a Free Instant Quote Today
Our state of the art designers allow you to design and build completely customized Custom Doors to fit your exact needs.
Questions or concerns contact us here or via 412.641.0177 .
Build an Instant Quote
Check Out Our Line of Custom Doors

Recently Published
Longing For A Warm And Cozy Home? Try Home Decorating With Barn Doors
Published: May 26, 2023
The Wooden Flat Panel Doors That You Can Use For Exterior Purpose
Published: May 11, 2023
What Louvered Shutters Can Do For You
Published: May 02, 2023
French Doors Improve The Ambiance Of A Home
Published: April 18, 2023
Choosing Raised Panel Doors For Better Home Value
Published: April 07, 2023
What Are Louvered Doors And Why Are They So Popular?
Published: March 27, 2023
7 Reasons You Will LOVE Pocket Doors
Published: March 22, 2023
Bahama Shutters - The Best Way To Your Dream Windows
Published: March 15, 2023
Custom Raised Panel Shutters That Will Last A Lifetime
Published: March 13, 2023
How Custom Wood Doors Can Improve The Look Of Your Home
Published: March 10, 2023