Custom Front Doors
Published: June 16, 2022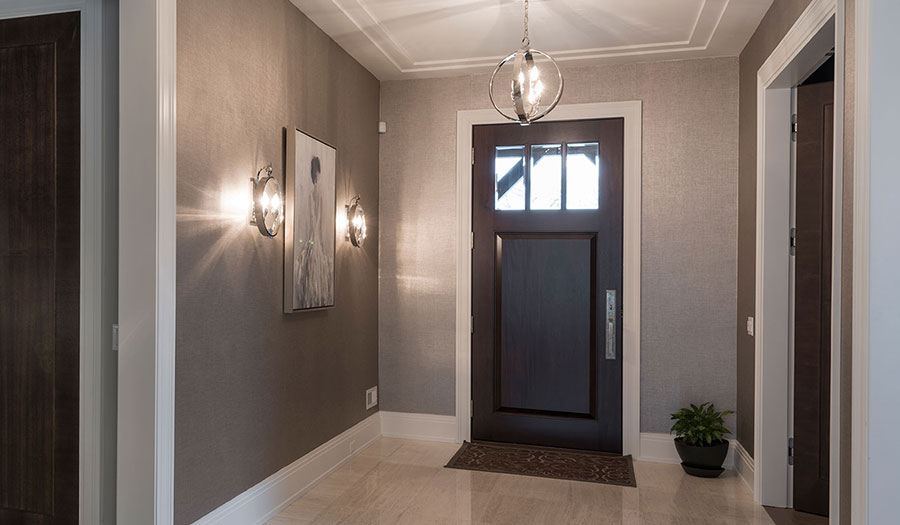 The right front door will increase your home's beauty, curb appeal, security, and value. Your entryway is the focal point of your home's façade and the front door is its most prized asset. It's easy to understand why many of us still like our doors to be made of wood. Nothing else matches the material's warmth and satisfying heft or offers so many design options. Give your home the entrance it deserves with one of our expertly handcrafted front entry doors. Custom made by our expert craftsmen, each wooden front door will introduce your home with elegance and artistry.
Spring is the perfect time to refresh and renew your home. If your home's front entrance is not presenting the style and curb appeal you desire, changing your existing door with a new custom wooden door will add instant beauty and value to your home. Replacing your front door is one of the fastest, easiest and most rewarding home improvements you can make. In fact, updating your front door can increase the perceived value of your home by many times the cost of the door itself, providing an excellent return on investment. So whether you're nestled happily in your home for the long term, or looking to sell, replacing your existing entrance door is a great way to refresh the appeal and value of your home.
Wood doors are the most common type with versatility and beauty as their strong suits. Natural-finish stock and custom wood doors come in oak, cherry, walnut, mahogany, maple, and teak to name a few.
The Pros of Wood Front Doors:
Character & Style — Wood is undoubtedly the go-to material if you're trying to achieve a high-end, architecturally unique entryway. Though some non-wooden doors can be made to look like wood, you won't get true character from anything but a real wood door.
Easy to Repair — Wood is easily sanded and refinished if you run into any superficial weathering or scratches making maintenance for any damages pretty easy.  Wood will hide scratches or dents better than fiberglass or steel as they don't have the texture to hide those small damages.
Energy Efficient — Solid wood front doors have a natural R-value that can help protect your home from the elements. While a wood door won't be as energy efficient as some high-end fiberglass door that are stuffed with insulators, you'll still get a goodamount of protection as long as you choose a solid hardwood option.
Build your new Custom Doors and get a Free Instant Quote Today
Our state of the art designers allow you to design and build completely customized Custom Doors to fit your exact needs.
Questions or concerns contact us here or via 412.641.0177 .
Build an Instant Quote
Get Started Designing Your New Solid Wood Doors Today!

Louvered Doors

Mission Doors

French Doors
Check Out Our Line of Custom Doors

Recently Published
Enhance Your Home With Wood Shutters
Published: July 01, 2022
Custom Front Doors
Published: June 16, 2022
Outdoor Kitchen Cabinet Doors
Published: June 08, 2022
Elegant Wine Cellar Doors
Published: June 01, 2022
What Makes Wood Doors Superior
Published: May 25, 2022
Beautiful Shutters For Your Traditional American Cape Cod Home
Published: May 18, 2022
Solid Hardwood Cabinet Doors In And Outside Your Home
Published: April 18, 2022
What Makes Wooden Exterior Shutters Superior
Published: April 11, 2022
French Patio Doors: Bringing The Beautiful Summer Weather Indoors
Published: April 04, 2022
Louvered Doors For A More Comfortable Enjoyable Summer
Published: March 25, 2022