Choosing your Interior Door Style
Published: September 29, 2021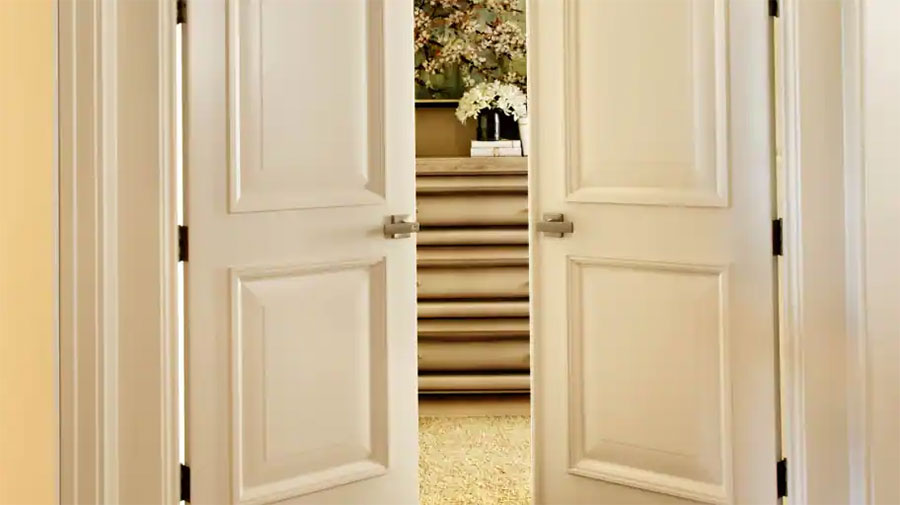 It can be no small task when it comes to choosing what style of interior doors you want to install in your home. Some things you need to consider are wood species, painted or stained, door type and lastly door style.
Choosing a Door Type
Choosing a door type is probably the most important decision when it comes to buying new interior doors. This where you need to decide is this a standard door, French doors, a sliding door or a bi-fold door and which style type you want. If you are in the market for bi-fold doors you are likely looking for a louvered door, paneled door or a combination of the two. A larger opening that would require two doors can be filled with French doors, sliding doors or sliding barn doors. The door style here all depends on the location, personal taste, overall room size and available space in the room, is it a closet or an opening between rooms?
Door Style
Picking a distinct style is where you get into the design details of the door you chose, whether it is louvered, paneled, barn or something in between Estate Millwork offers numerous variations of each style. Examples of choices here are number of panels, panel arrangement and number of rails and stiles. Here is where you can truly customize your doors to fit your style and be unique to you.
Customizing
The customization possibilities are endless when it comes to doors from Estate Millwork. You can choose from over 10 different beautiful hardwood species, specific dimensions and the doors finish whether it is painted a custom color or finished in a protective clear coat.
Build your new Custom Louvered Doors and get a Free Instant Quote Today
Our state of the art designers allow you to design and build completely customized Louvered Doors to fit your exact needs.
Questions or concerns contact us here or via 412.489.9148.
Build an Instant Quote
Get Started Designing Your New Solid Wood Doors Today!

French Doors

Raised Panel Doors

Flat Panel Doors
Check Out Our Line of Louvered Doors

Recently Published
Sapele Mahogany Doors And Shutters
Published: November 15, 2021
What Is A French Door?
Published: November 08, 2021
What Is The Difference Between Interior And Exterior Doors?
Published: October 28, 2021
The Appeal And Benefits Of Wooden Front Doors
Published: October 15, 2021
Choosing Your Interior Door Style
Published: September 29, 2021
Why Are Outdoor Wooden Shutters So Popular
Published: September 15, 2021
Choosing The Best Wood For Your Exterior Front Door
Published: September 03, 2021
Custom Wood Doors -- Notes On Quality
Published: August 26, 2021
Different Types Of Closet Doors
Published: August 20, 2021
Choosing The Best Exterior Shutter Color
Published: August 13, 2021