Choosing the Best Exterior Shutters for your Fancy House
Published: October 27, 2020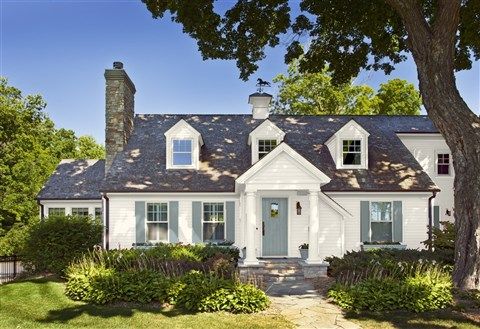 Shutters offer a simple method to redesign the vibe of your home's exterior, including a sprinkle of style and color to your windows.
Remember that shutters are not simply window treatments; exterior shutters protect your windows and privacy. During the summer months, exterior shutters are an incredible method to control the amount of light that in your room, and during the winter exterior shutters provide great insulation from the outside elements.
When considering exterior shutters you'll want to foremost take design and color into consideration so that they look good on your home and coincide with the décor. Since exterior shutters are on the outside they will need to be able to withstand the constant exposure to the elements.
Exterior Wooden Shutters
Classic wooden shutters are the top choice when it comes to exterior shutters. Exterior wood shutters are made from solid natural woods with beautiful grain patterns that can be accentuated with finishing. Custom exterior shutters can be manufactured in a number of sizes, style and colors to fit your exact needs and exterior décor.
Exterior shutters are what can be considered the number one home improvement option when it comes to your home. Your shutters are one of the first things those passing by see when they look at your home. Adding or replacing outdated, dilapidated, or vinyl shutters with premium hardwood exterior shutters will give your home a great visual boost and increase its resale value.
Which Shutters Should I use on My House?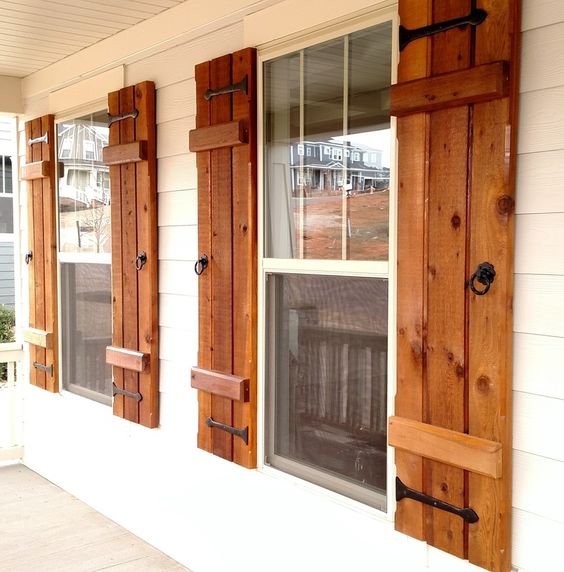 Louvered Shutters
Louvered shutters consist of sets of angled slats know as louvers that allow light and air to pass through, these are probably the most commonly seen shutters. Louvered shutters are best suited for Victorian, Colonial, Georgian, Cape Cod and Ranch homes.
Raised and Flat Panel Shutters
Paneled shutters, either raised panel or flat panel shutters consist of a panel or panels. These shutters have a low profile and blend well with almost any style of home such as Cape Cod, Colonial, Ranch, Victorian, Georgian among others.
Bahama Shutters
Bahama shutters or sometimes known as Bermuda shutter are like louvered shutters but are made to hung so they open at the bottom instead of in the middle. Bahama shutters are more often seen in tropical climates where extra protection from tropical weather is needed, there types of homes can consist of Cape Cod, Cottage, and Ranch.
Board & Batten Shutters
Board and Batten shutters or sometimes known as BnB shutters are more of an old world or rustic type of shutter with a simple construction. These shutters consist of two to four boards held together by thinner cross piece. Since these shutters have such a unique look they go best with Mediterranean, Cape Code and Ranch homes.
Build your new Custom Louvered Shutters and get a Free Instant Quote Today
Our state of the art designers allow you to design and build completely customized Louvered Shutters to fit your exact needs.
Questions or concerns contact us here or via 412.641.0177 .
Build an Instant Quote
Check Out Our Line of Louvered Shutters
Recently Published