Beautiful Shutters for Your Traditional American Cape Cod Home
Published: May 18, 2022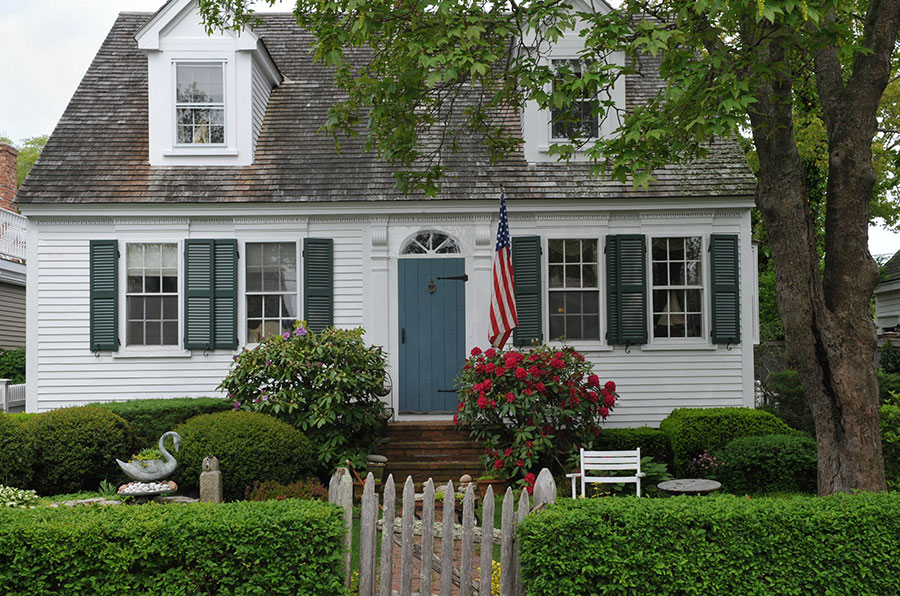 The smaller, economical and practical Cape Cod home boomed across America from the 1930s-1950s, but actually began years before in colonial New England. The variety in Cape Cod homes is enormous, the styles of doors and windows are different in every home. The original colonists of America made the journey here because of freedom of religion, so we should not be surprised at the stark nature of America's first homes. The homes had no dormers, the chimney was centered in the home so that it warmed the entire house. Shutters were made to actually close over the windows, the home's siding was clapboard or shingle and the roof was covered in shingles or slate. These homes had to function in the heat of summer and cold New England winters.
Exterior Cape Cod Shutters
Whether they're functional or purely aesthetic, shutters are common elements on Cape Cod homes and can also make windows appear larger. Cape Cod homes will often look incomplete without shutters on their windows. However you can use basically any style of shutter you can imagine on a Cape Cod home. This creates a lot of design flexibility and opportunity for personalization of your home.
If you want a cute rustic style home, you can go with a board and batten style shutter or a louvered shutter. Paneled shutters raised or flat panels are also excellent choices for Cape Cod homes. When it comes to Cape Cod shutters there is a vast array of options to choose from that will fit the unique characteristics of your home.
The Estate Millwork wooden shutter designer will help you build and design shutters for your Cape Cod home. If there is something you are looking for but not seeing on the shutter designer don't hesitate to contact our sales team at sales@estatemillwork.com
Build your new Custom Louvered Shutters and get a Free Instant Quote Today
Our state of the art designers allow you to design and build completely customized Louvered Shutters to fit your exact needs.
Questions or concerns contact us here or via 412.641.0177 .
Build an Instant Quote
Get Started Designing Your New Wooden Shutters Today!

Board & Batten Shutters

Raised Panel Shutters

Combination Shutters
Check Out Our Line of Louvered Shutters

Recently Published
Enhance Your Home With Wood Shutters
Published: July 01, 2022
Custom Front Doors
Published: June 16, 2022
Outdoor Kitchen Cabinet Doors
Published: June 08, 2022
Elegant Wine Cellar Doors
Published: June 01, 2022
What Makes Wood Doors Superior
Published: May 25, 2022
Beautiful Shutters For Your Traditional American Cape Cod Home
Published: May 18, 2022
Solid Hardwood Cabinet Doors In And Outside Your Home
Published: April 18, 2022
What Makes Wooden Exterior Shutters Superior
Published: April 11, 2022
French Patio Doors: Bringing The Beautiful Summer Weather Indoors
Published: April 04, 2022
Louvered Doors For A More Comfortable Enjoyable Summer
Published: March 25, 2022