An Environmentally Friendly Home Starts with Wood Shutters
Published: July 10, 2020
How Wood Shutters Can Help You Reduce Energy Consumption
From Estate Millwork's wood shutter mill to the nation's capital to the Hawaiian Islands, the American energy crisis looms large. Energy conservation dialog is ongoing, and environmentally friendly solutions that don't cost a lot are key. How can the average American homeowner save money on energy bills while remaining mindful of the environment? Two words: wood shutters.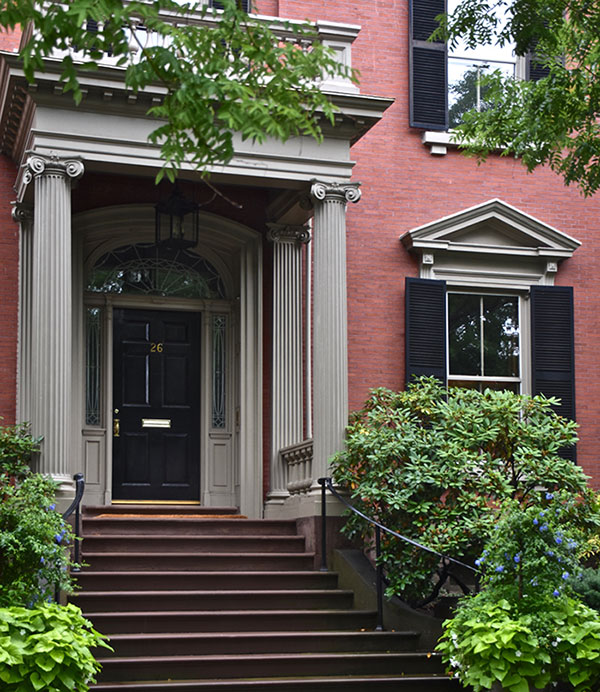 Wood shutters, simply put, are milled wood that covers windows. Prior to the energy crisis, many homeowners considered shutters to be welcome aesthetic touches rather than heavy-hitting climate regulators. Times have changed. Some of Estate Millwork's newest exterior shutter customers come calling because they want solutions to their energy worries. They recognize that their bills are much higher than in previous years; that the world climate is changing rapidly, and that "environmental conservation" is no longer a buzz phrase -- it's a necessary practice.
Across the Atlantic Ocean, exterior shutter makers concur. In 2007, British shutter manufacturer George Worley, who works at the Shutter and Blind Company, told the U.K. Telegraph that he'd recently begun selling shutters as valuable home insulation aids. Worley said, "You can leave your shutters closed on a hot August day ... come back in the early evening and it's like the air conditioning has been on all day." Worley's quote is testament to exterior shutters' new, environmentally friendly uses: they're no longer just pretty window decorations; they're serious temperature control devices, too.
Historically, wood shutters have been used to regulate hot temperatures and other unfavorable climate conditions. Bahama shutters, for example, are often used on houses located in storm belts. These wood shutters are top-hinged, so they can be closed quickly prior to the arrival of inclement weather. Louvered shutters are favored in tropical climates; the window panels feature wooden slats, which can be closed or opened halfway to provide home interiors with excellent cross ventilation. Board-and-batten shutters are favored in temperate and tropical climates alike; these exterior shutters can be fastened tightly against the home to keep out the scorching mid-day sun.
Reduce Your Power Consumption
Outfit your home with well made, solid cut wood shutters
Schedule a yearly appointment to have your home ductwork cleaned and air filters replaced.
Wrap your windows with plastic insulation to prepare for the chilly season. Your wood shutters will work even better with extra insulation!
Install an attic fan before the hot season begins. Attic fans amplify the efficiency of your home cooling system by drawing hot air upward.
Seal gaps in home insulation and fix windows bearing gaps or cracks around the frames.
Turn down the heat -- or the cold, if you have A/C -- when you're not home.
Serious Wood Shutters Mean Serious Savings -- and Only Expert Construction Will Do
Whether your concern is lowering your bills, controlling the interior temperature of your house, saving the Earth -- or all three -- Estate Millwork wood shutters do the job nicely. Our exterior shutters are expertly hand-crafted using the finest natural woods. Unlike competitors, we use no artificial filler compounds or pre-assembled synthetic pieces. This 100-percent durable wood construction means that our shutters offer serious shade AND sizeable energy savings.
Modern problems sometimes call for old-world solutions. Estate Millwork wooden exterior shutters use authentic, 18th-century joinery methods, ensuring that customers receive pieces free of cracks, gaps, or splits. Unlike inferior vinyl or composite shutters, our products provide your home with complete protection from the heat and the cold, and this translates into energy bill savings for you. Take it from the experts: shutters heat or cool your home most efficiently when they are free of gaps that can let in too-hot or too-cold air.
At Estate Millwork, our concern for energy conservation is as apparent in our green construction choices as it is in our exterior shutter designs. We practice sustainable timber harvesting methods, using about 97 percent of each harvested tree in the shutter-making process. We strive to meet important goals: environmental regeneration and waste minimization. We donate our saw dust to local farms and burn leftover wood scraps to heat our plant. In fact, our facilities are held to strict temperature regulation during the hot and cold seasons so we can save even more energy.
If you are looking for quality craftsmanship, serious energy savings, environmentally friendly products, or attractive, durable home accents, Estate Millwork is the company to call!
Build your new Custom Louvered Shutters and get a Free Instant Quote Today
Our state of the art designers allow you to design and build completely customized Louvered Shutters to fit your exact needs.
Questions or concerns contact us here or via 412.641.0177 .
Build an Instant Quote
Get Started Designing Your New Wooden Shutters Today!

Combination Shutters

Arched Shutters

Board & Batten Shutters
Check Out Our Line of Louvered Shutters

Recently Published
5 Things To Consider When Choosing Hardwood Lumber
Published: February 08, 2023
Your Guide To Choosing, Installing, And Maintaining Flat Panel Shutters
Published: January 30, 2023
Custom Wood Shutters - A Unique, Durable Alternative To Aluminum
Published: January 27, 2023
Wooden Customized Replacement Cabinet Doors: The Best Way To Update Your Cabinets
Published: January 23, 2023
Wood Shutters: A Stepping Stone From The Past
Published: January 17, 2023
Build Your Dream House: Custom Bifold Doors Can Complete A Room
Published: January 12, 2023
Custom Wooden Door Jambs From Estate Millwork
Published: January 09, 2023
Custom Louvered Wood Doors That Are Going To Blow Your Mind
Published: January 04, 2023
Tips For Choosing Custom Doors In Your Home
Published: December 20, 2022
5 Reasons Why You Need Louvered Shutters For Your Home
Published: November 29, 2022