Achieve that Rustic Look with Custom Wooden Shutters
Published: March 10, 2022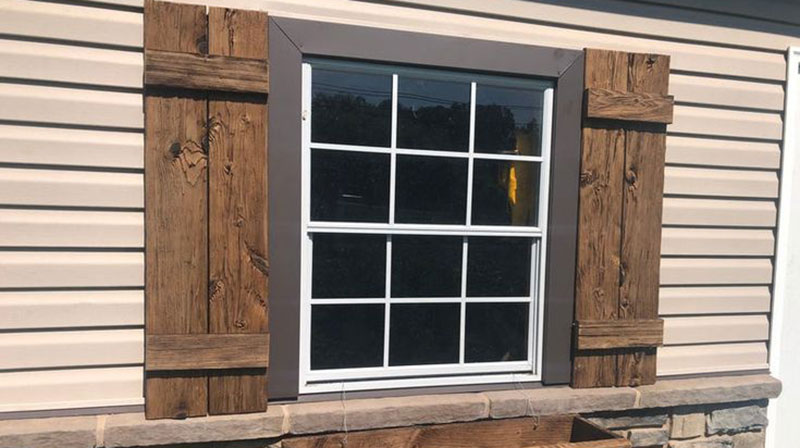 When we talk about decorating a home people usually think of decorating the interior of their home, however the exterior of your home is what your neighbors and those passing by will see and the first impression visitors may have of you. Rustic exterior shutters can add flair and historical elegance to the exterior of your home.
While often a functional tool for your windows shutters offer great visual appeal to your home that shouldn't be overlooked. When it comes to rustic shutters they work best for farmhouse and Mediterranean style homes. Some of the more popular types for these homes are louvered shutters and board and batten shutters.
Louvered Shutters
One of the most popular shutters are louvered shutters, as we've said many times this shutter type provides both protection from the outside elements while allowing air to flow freely through the louvers. Louvered shutters look good on lots of different home styles from colonial to ranch and contemporary style homes.
Board & Batten
Board and Batten shutters are your typical rustic shutter, these shutters are a simple design and were easy to assemble from materials leftover from building the home. The board & batten shutter is constructed with two or more vertical boards held together by two or three shorter horizontal boards.
Build your new Custom Louvered Shutters and get a Free Instant Quote Today
Our state of the art designers allow you to design and build completely customized Louvered Shutters to fit your exact needs.
Questions or concerns contact us here or via 412.641.0177 .
Build an Instant Quote
Get Started Designing Your New Wooden Shutters Today!

Louvered Shutters

Raised Panel Shutters

Combination Shutters
Check Out Our Line of Louvered Shutters

Recently Published
Beautiful Shutters For Your Traditional American Cape Cod Home
Published: May 18, 2022
Solid Hardwood Cabinet Doors In And Outside Your Home
Published: April 18, 2022
What Makes Wooden Exterior Shutters Superior
Published: April 11, 2022
French Patio Doors: Bringing The Beautiful Summer Weather Indoors
Published: April 04, 2022
Louvered Doors For A More Comfortable Enjoyable Summer
Published: March 25, 2022
Achieve That Rustic Look With Custom Wooden Shutters
Published: March 10, 2022
Interior Doors You'Ll Love
Published: March 07, 2022
Why Choose Wooden Exterior Doors
Published: January 28, 2022
Why Teak Boat Doors?
Published: January 07, 2022
Using Sliding Barn Doors In Your Home
Published: December 23, 2021