Bahama-Style Exterior Shutters: A Wise Choice In the Hurricane Belt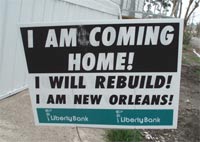 New Orleans LA builders are choosing wood exterior shutters when rebuilding the town that they love.
Hurricane Katrina ravaged New Orleans, La. in 2005, leaving many lives and houses in shambles. However, the area is making a big comeback – and innovative, hurricane-resistant housing designs are essential to successfully re-populating the area. Exterior shutters make handsome additions to newly built homes – and one type of exterior shutter in particular, the Bahama (or Bermuda) shutter, is especially suited for high-hurricane-risk areas.
Well before the Gulf Coast was settled, Bahama wooden shutters were commonly found on British colonial-era architecture. Today, these exterior shutters are featured on homes from many different periods. Unlike most other types of exterior shutters, the Bahama style is top-hinged; the window coverings swing up and away from the house. These shutters have an advantage over side-hinged styles: they can be swung shut and fastened quickly before a hurricane hits the area.
New Architecture and Bahama Wooden Shutters
The rebuilding of New Orleans offers architects a unique opportunity to improve upon home designs for this hurricane-prone area. Brad Pitt made headlines in 2007 when he oversaw a competition among architectural firms – each firm's goal was to create the most innovative, hurricane-belt-appropriate home design possible. This competition, called the "Make it Right" project, introduced some great new architectural ideas to the people of New Orleans. As the Lower 9th Ward of New Orleans is rebuilt, it is likely that these architectural features will be considered in new home designs. Bahama –style exterior shutters were found in many of the design concepts and the real houses being built are likely to feature Bahama wood shutters, as well.
For hurricane-prone areas, wood is superior to other materials commonly used for shutters. Our exterior wood shutters are longer-lasting than the vinyl competition. More importantly, the Bahama-style exterior shutters are designed to close tightly against windows. The tight fit, which is a result of our hand-crafted mortise-and-tenon joinery designs and custom milling to fit your home perfectly, protects windows from heavy rains, blustery winds, and flying debris. Unlike cheaper vinyl designs, our wood shutters are long-lasting. They are made of durable, high-quality woods, and with proper care, can last for many decades.
Design and purchase your Exterior Shutters now.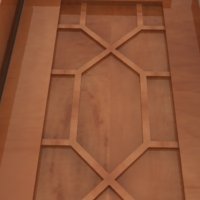 Visit our home page or call 1.866.322.0040 to speak with one of our exterior shutter experts!
Green building and Bahama exterior shutters
Green building is another key component of re-building New Orleans. Fuel and electricity costs are skyrocketing – and homes in Louisiana, a state where summer temperatures in the 90s are not uncommon, require serious air-conditioning power to be cooled effectively. Too much A/C is hard on the environment and on the wallet! Estate Millwork Bahama wood shutters are great choices for home owners who want to go green.
Because Bahama shutters are top hinged, individuals have complete control over the angles at which the shutters sit. Are you enjoying a nice, breezy day? Open your shutters halfway, and take advantage of natural air circulation to cool your home. Is it hot and unbearably muggy? Shut those shutters tight – you'll prevent the sun from beating down through your windows. The angle at which your shutters sit determines how much air is circulating through your home. When combined with an attic fan, Bahama wooden shutters are a green and cost-effective option for home temperature control.
Estate Millwork shutter sets are completely customizable. You can provide us with your own sketches or AutoCAD drawings, and our talented team of craftsmen will render your wooden shutter designs to suit your tastes. Some people like natural, varnished shutters; others want their window coverings to be custom-painted to match their homes. It's all up to you – Estate Millwork's team wants you to enjoy your exterior shutters for years to come.
Quality exterior shutters, houses on stilts, and New Orleans' comeback
Whether new homes feature stilt-based foundations, customized Bahama exterior shutters, or segmented, pre-assembled sections, the second coming of New Orleans is sure to feature innovative green architecture. The re-building of the Lower 9th Ward in New Orleans has been slow, but steady. Thanks to architects' "green building" innovations, the people of New Orleans will have places to call home once more.
A crucial element of this revitalization is actually the installation of exterior shutters. As a cost effective form of green construction and an excellent way to recapture the French Colonial style of construction that is popular in the area, exterior wood shutters are being implemented on new homes and home repairs in New Orleans at a record rate.