($$) Appalachian hardwood. Warm hues, mild grain. Excellent for interior applications.
($$) African Import. Beautiful grain. Excellent for interior and exterior applications.
($$) Appalachian hardwood. Straight grain. Excellent for interior applications.
($) Appalachian hardwood. Machines well. Suitable for interior or exterior applications.
($$) Appalachian hardwood. Machines well, heavy grain. Suitable for interior applications or exterior with proper finish.
($$) South American Exotic. Smooth grain. Excellent for exterior applications. Natural resilience.
($$$) Burmese import. Hard machining. Heavy tough wood, excellent for exterior and marine applications.
($$$) Appalachian hardwood. Deep hues, mild grain. Excellent for interior applications.
($) Canadian Softwood. Machines variously, hues in grain. Excellent for exterior applications.
($$$) Appalachian hardwood. Machines well, lighter grain. Suitable for interior applications, exterior with proper finish.
Abbey
Boat House
Castille
Cathedral
Coach House
Mews
Continental Collection
Select your Wood/Thickness
Custom Door Pricing
Although we can manufacture your selected item to the dimensions you have specified, our website does not have image data for that configuration.
(
close
)

"The cherry wine cellar doors we had ordered from your company arrived in good condition today. The workmanship is wonderful, and we can not wait to install them."
--R. Berringer, Napa, CA
Custom Doors by Estate Millwork
If you want custom doors for your home, look no further than Estate Millwork. Our company provides customers like you with endless choices — including wood types, finishes, accents, and styles — for custom doors that are tailored to suit your tastes.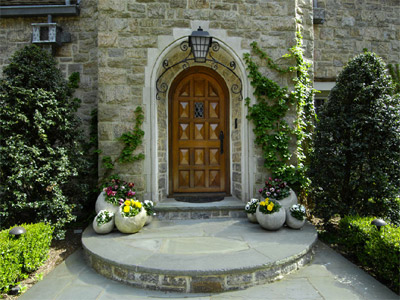 All custom doors feature high quality wood craftsmanship
All Estate Millwork custom doors start with genuine, top-grade, hardwoods. We partner with sustainable-harvest domestic wood suppliers and importers to deliver eco-friendly custom doors and other wood products. Door manufacturers require so much of the Earth, and our corporate mission embraces the goal of giving back to the planet that allows us to work at our craft.
Customers can choose from several beautiful, durable hardwoods for their doors, including oak, teak, maple, mahogany, and cherry wood. We select cuts of hardwood that are free from pockmarks, blemishes, or imperfections, and carefully cut and shape the wood to produce unquestionably gorgeous custom doors.
Each of our custom doors is assembled using 18th-century mortise-and-tenon joinery. All pieces are precision-cut, so our wood doors hold up without the aid of cheap glue or flimsy dowel-rod connectors. Other features that signify the durability of our doors include double-tongued and feather-tenoned base rails, precision-cut louvers, and expertly finished solid wood frames.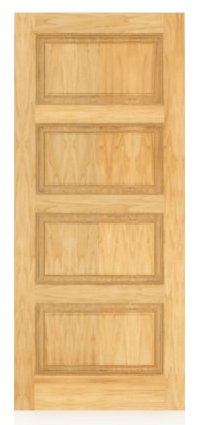 We can build custom doors to your specifications.
Custom doors can be created to suit you
Estate Millwork is proud to introduce our Custom Online Design Tools, which enable customers to tailor their doors to their hearts' content. Use these tools to determine how high, wide, and deep your custom doors should be. Our expert-fitted custom doors provide a great return on your investment. Doors that fit your home perfectly last longer while providing better weather protection and air circulation control.
The online design tools include another drop-down menu that allows you to select from several handsome, classic door styles. Customize your doors further by selecting wood types, finishes, and other add-ons like weather stripping, jambs and stops, beading, and privacy panels.
If you've got a vivid imagination, our craftsmen can create the custom doors you desire. Simply submit your sketches or AutoCAD drawings to our company headquarters, and our door designers will work with you to create your perfect doors. Doors that are cut and stained to suit your home's decor and architecture look great, and can add true value when it's time for you to sell.
Custom doors promote energy efficiency
Unlike our competitors, we insist upon only the finest genuine wood in every set of custom doors we make. Real wood provides superior insulation, while cheap particle board filler and veneer simply can't compete. Our heavy, sturdy custom doors promote excellent insulation and air flow in your home. Often, our customers find that installing a set of Estate Millwork custom doors can help them lower their heating and cooling bills.
Our custom doors are also environmentally friendly because they last and last. While the competition's flimsy doors warp, crack, fade, and end up in landfills, our genuine wood creations withstand the test of time. Solid hardwood is exceptionally hardy and can withstand decades of sun, wind, foot traffic, or scuffing. You'll be keeping your doors for a long time.
Learn more about our custom doors
To learn more about our wooden doors, get in touch with an Estate Millwork customer service representative. Fill out this form or call our toll-free service line at 1.866.322.0040. We want to help you create the gorgeous, all-wood, eco-friendly custom doors you deserve.