Cottage SeaBreeze Wooden Shutter
Cottage SeaBreeze Wooden Shutter - Whether ocean or bay- you can have the best of both. Panel or louver.
Standard Cottage SeaBreeze Wooden Shutter Features:
True Mortise, Peg & Tenon Joinery
Solid Hardwood Construction
Hand Crafted
Available in fine Mahogany, Cedar, Poplar, Oak, Walnut, Cherry, Maple and other species
Hardware Options »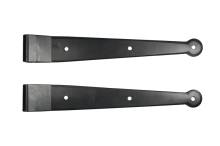 Available Shutter Options:

Horns
Radius Top
Thicknesses from 3/4" to 2 1/4"+
Custom Sticking Profiles
Radius Tops
Bolection Mouldings
Inlays
Factory Priming
Customizable Rails, Stiles
Custom Mouldings

Specifications:

Frame Thickness: 1 5/16 "
Stile Width: 2 1/2 "
Base Rail: 4 "
Dividing Rail: 2 1/2 "
Louver Size: 1 3/4 "
Louver Thickness: 3/8 "
Louver Pitch: 1 15/16 "
Louver Spacing: 1 3/8 "
Pegging: Authentic Hardwood Dowels
Create your own custom Cottage SeaBreeze Wooden Shutter now!
Get Started
The SeaBreeze is a strong window shutter with one smaller Raised Panel field atop, and one larger field of Louvers below. This design naturally draws the eye upward, as that one Raised Panel atop commands attention. This design is very useful in complementing the height of a window. The standard thickness is 1 5/16" with 3/8" X 1 3/4" real louvers, but the dimensions can be modified to exactly match existing or historical shutters. Built with true mortise and tenon joinery, and pegged with authentic hardwood dowels, these handsome and functional shutters will beautify any home.
These elegant shutters can be ordered with a number of options ranging from operable louvers to radius tops, and there are a variety of custom details that can be included in the design: customized rails and stiles, inlays, and custom sticking profiles. Most commonly, our window shutters are manufactured from Spanish Cedar or Western Red Cedar, although Estate Millwork can fabricate them from almost any type of wood.