Atlantic Providence Wooden Shutter
Atlantic Providence Wooden Shutter - Sculpted long running single panel. A beautiful companion to the traditional brick work and slate of the grand old homes of Rhode Island.
Standard Atlantic Providence Wooden Shutter Features:
True Mortise, Peg & Tenon Joinery
Solid Hardwood Construction
Hand Crafted
Available in fine Mahogany, Cedar, Poplar, Oak, Walnut, Cherry, Maple and other species
Hardware Options »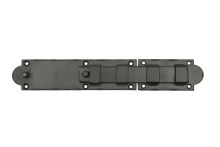 Available Shutter Options:

Horns
Radius Top
Thicknesses from 3/4" to 2 1/4"+
Custom Sticking Profiles
Radius Tops
Bolection Mouldings
Inlays
Factory Priming
Customizable Rails, Stiles
Custom Mouldings
Panel Cut Outs

Specifications:

Frame Thickness: 1 5/16 "
Stile Width: 2 1/2 "
Base Rail: 4 "
Dividing Rail: 2 1/2 "
Pegging: Authentic Hardwood Dowels
Create your own custom Atlantic Providence Wooden Shutter now!
Get Started
The Providence panel shutter is a simple and strong window shutter with one single panel. The classic Victorian style shutter, this clean design will add a genuine historical touch to your windows and home. The simplicity of this design also allows it to complement practically any kind of home, as it is free of stylistic clutter that could detract from almost any visual style you are trying to create. The standard thickness is 1 5/16" in the frame, with 2 ½" wide Rails and Stiles, but the dimensions can be modified to exactly match existing or historical shutters. Built with true mortise and tenon joinery, and pegged with authentic hardwood dowels, these classic shutters will add character and history to your home.
These elegant shutters can be ordered with a number of options ranging from horns to radius tops, and there are a variety of custom details that can be included in the design: inlays, cut outs, and custom sticking profiles, among others. Most commonly, our window shutters are manufactured from Spanish Cedar and Western Red Cedar, and easy to paint Poplar, although Estate Millwork can fabricate them from almost any type of wood.